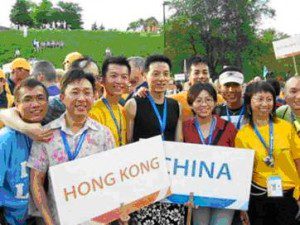 片长(Length):43mins
完成时间(Year):2007年
编剧(Screenplay):麦家蕾Cat Mak、张锦雄Kenneth Cheung
导演(Director):麦家蕾Cat Mak、张锦雄Kenneth Cheung
主演(Actor):张锦雄Kenneth Cheung
制片人(Producer):麦家蕾Cat Mak、张锦雄Kenneth Cheung
摄影(Cinematography):麦家蕾Cat Mak、张锦雄Kenneth Cheung
录音(Sound):麦家蕾Cat Mak、张锦雄Kenneth Cheung
音乐(Music):<Finally We Are No One>, <Yesterday Was Dramatic Today Is Ok>, <Amilal>
剪辑(Editing):麦家蕾Cat Mak
字幕(Subtitles):陈裕亨Chan Yu Hang
翻译(Translation):郑远涛Silvano Zheng
制作机构(Production Company):香港彩虹Rainbow of Hong Kong
赞助(Sponsor):平等机会委员会Equal Opportunities Commission
故事梗概:
同志的路很难走,一个同志兼艾滋病患者的路就更难走,因为没有一个可以学习的对象,前路得由自己去寻找。
这个世界永远都会有歧视,但是我们要知道自己为什么走出来,站在这里。所以如果我们要坐等社会改变,坐等我们身边的亲人、朋友全都准备好才站出来,这一天是永远不会来临的!
「站出来,说真话,打好人生这场仗!」──纳芙拉蒂诺娃
Synopsis:
It is hard to live as a gay man and harder to live as a gay and HIV+ man because you have no role model to learn from and have to make your own way.
There will always be discrimination in the world but it is important for us to know why we come out and stand here. If we wait for society to change by itself and wait for our families and friends to get ready before we come out, it will never happen.
"Come Out, Tell the Truth, Play the Game." – Martina Navratilova
导演简历:
麦家蕾生于香港80年代,毕业于岭南大学文化研究系。2003年开始参与社会运动,同一时间尝试手执摄录机,以行动者身份纪录社运;现时是学联社会运动资源中心(自治八楼)及影行者(V-Artvist)成员。《肯复的艾滋岁月》为第一部长片。
张锦雄(Ken仔),「肯复」是他的笔名,现年34岁,14年前艾滋病发入院,没想过能够过渡九七,跨越千禧,见证京奥……1998年创办同志组织「香港彩虹」,辗转十年,两年前开办了香港「首间为同志而设的社区服务中心」,曾以公开同志身份参选区议员,并百分百现身在闹市中进行「真情拥抱艾滋」行动……最近完成社会工作副学士学位课程,成立「彩虹中国」,立志把过去的经验贡献祖国,支持国内同志平权和艾滋防治工作。
Bio-filmography of Director:
Cat Mak was born in the 80 century of Hong Kong, graduated at the Department of Cultural Studies at Lingnan University. She has been involved in social movements since 2003 and meantime started as an action-taker to document with a camera. Now Cat is the proud member of HKFS Social Movement Resource Centre(smrc autonomous8a) and V-Artvist. "Kenfil's Years in AIDS" is her first feature film.
Kenneth Cheung(Kenjai or Kenfil), age 34, hospitalized by AIDs fourteen years ago, never thought of witnessing the Hong Kong 1997 Handover, the Millennium and the Beijing Olympic…He co-founded the LGBT organization "Rainbow of Hong Kong" in 1998 and established Hong Kong's first service centre for LGBT community two years ago. Openly gay, he ran for a seat in the District Council election and hosted a "Freehugs for HIV/AIDS" action in downtown. He recently completed an associate degree in social work and founded "Rainbow of China", resolved to contribute his rich experiences to the mainland in support of gay equal rights and HIV/AIDS prevention and treatment programs for LGBT Chinese.
导演阐述:
我们想说一个故事,可是这个故事的长度,就和人的一生一样长。片中的故事说完了,生命仍在行进,情节的推演在片外、在未来,因着时间、场域、地点、社会环境、你和我而改变。这部片关于一个人的生活,「它」是创作,也是抗争。
Director's Statement:
The filmmakers say, "We want to tell a story, but it's as long as life. When the story in the film is told, the life story goes on, develops and transforms outside the camera. The matters inside the scenes deduce in our daily lives and our future, it interacts with time, location, place, social environment, and audiences like you and me. This film is about the life of an individual. It is a creation as well as a combat."