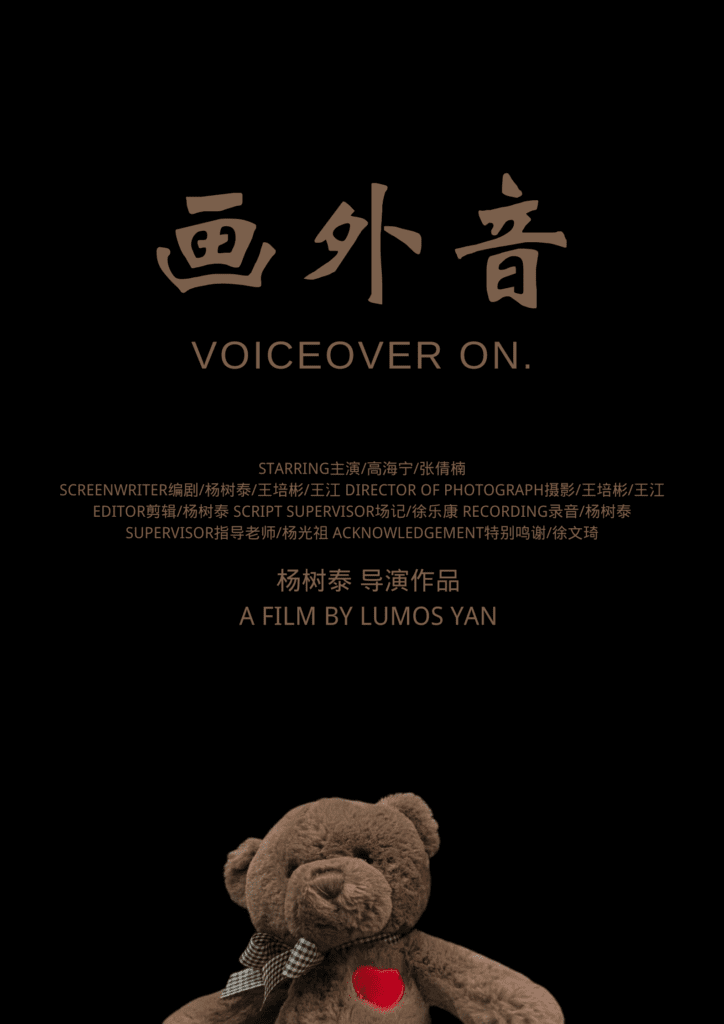 导演:杨树泰
编剧:杨树泰
主演:高海宁,张倩楠
制片人:王培彬
摄影:王江
类型:剧情短片
时长:10分
完成时间:2022
对白语言:中文
字幕:中英
地区:中国大陆
制片公司:西北师范大学传媒学院
Director: Lumos Yan
Screenwriter: Lumos Yan
Cast: Dolphin Kao,Zhang Qiannan
Producer: Wang Peibin
Cinematographer: Wang Jiang
Genre: Feature Short
Length: 10min
Year: 2022
Dialogue: Chinese
Subtitles: Chinese, English
Region: China
Production Company: School of Media, Northwest Normal University
故事梗概 Synopsis
Voiceover is the way we communicate.
导演介绍 Director Biography
杨树泰,男,现就读于西北师范大学传媒学院。
Lumos Yan, male, now study in the school of media of Northwest Normal University.
导演阐述 Director Statement
同性恋话题还是比较敏感的,大众对于这个群体的态度也十分暧昧。过激者甚至认为同性恋是一种心理疾病,是病态的表现。然而,在科学与社会学不断发展的今天,我们必须承认同性恋是一种正常的恋爱关系。每个人都有追求自己幸福的权利,我们不应该仅凭自己的好恶而给别人贴标签。世界正是因为有不一样的颜色而美好,我一直认为,爱情应该是一个灵魂与另一个灵魂相遇,而不应局限于相貌,身材,地位,和性别。
另外,这部影片之所以叫做《画外音》,是缘于和监制王江,制片人王培彬的一次草地闲聊,我们想知道能不能全程使用画外音来做一部短片,参考奥斯卡获奖短片《口吃》后,我们将主角设计成聋哑人,并直到最后才揭晓答案。这并不是想要故作高级,其实我们想表达的是,任何人,同性恋者或伤健人士,都可以得到属于自己的爱情。每一个人,都有平等的追求爱情的权利。
The topic of homosexuality is still sensitive, and the public's attitude towards this group is also very ambiguous. Radical people even think that homosexuality is a kind of mental disease and a morbid manifestation. However, with the continuous development of science and sociology, we must admit that homosexuality is a normal romantic relationship. Everyone has their right to pursue their own happiness. We should not label others only by our own likes and dislikes. The world is beautiful because of different colors. I always believe that love should be the encounter between one soul and another, not limited to appearance, figure, status, and gender.
In addition, the reason why the film is called Voiceover Onis due to a grassy chat with producer Wang Jiang and producer Wang Peibin. We want to know whether we can only use the voiceover to make a short film. After referring to the Oscar winning short film Stutterer, we designed the protagonist as a deaf mute and didn't reveal the answer until the end. This is not to pretend to be superior, in fact, what we want to express is that anyone, gay or physically-challenged, can get their own love. Everyone has an equal right to pursue love.