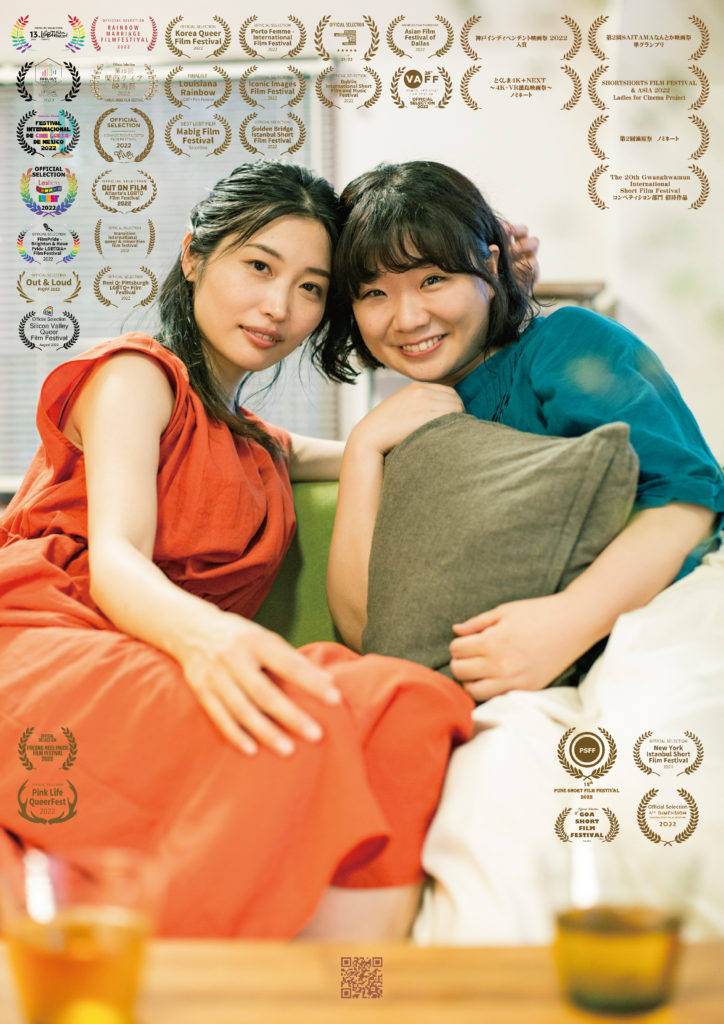 导演:中山絵莉香
编剧:中山絵莉香
主演:中山絵莉香 相马有纪実
制片人:村田麻里絵
摄影:石冢祭
类型:剧情短片
时长:18分
完成时间:2021
对白语言:日语
字幕:英文
地区:日本
制片公司:无
Director: Erika Nakayama
Screenwriter: Erika Nakayama
Cast: Erika Nakayama, Yukimi Soma
Producer: Marie Murata
Cinematographer: Sai Ishizuka
Genre: Drama short film
Length: 18min
Year: 2021
Dialogue: Japanese
Subtitles: English
Region: Japan
Production Company: None
故事梗概 Synopsis
Ayumi和Sayaka是一对在日本同居的封闭式女同性恋夫妇。她们期待着在她们的五周年纪念日拍摄婚纱照。但要找到一家平等地为LGBTQ夫妇服务的摄影沙龙并不容易。
Ayumi and Sayaka are a closed lesbian couple living together in Japan. They are looking forward to having a wedding photo shoot on their five-year anniversary. But it's not easy finding a photo salon that serves LGBTQ couples equally.
导演介绍 Director Biography
中山絵莉香,编剧、导演、演员。生于1987,来自日本东京。絵莉香于2015年开始了她作为作家的旅程。她作为作家和导演的处女作是一部名为《Tekkin Hanabi》的短片,并设法使用了一个没有表演背景的孩子作为演员。2021年,她执导了一部短片《面纱》,从那时起,她一直专注于编剧。她最近的电影揭示了社会问题。
Screenwriter, Director, and Actor. 1987 – from Tokyo, Japan. Erika started her journey as a writer in 2015. Her debut piece as Writer and Director was a short film titled "Tekkin Hanabi", in which she managed to cast a child who had no acting background. In 2021 she directed a short film, "Veils", and since then, Erika has been focusing on screenwriting. Her recent films shed light on social issues.
导演阐述 Director Statement
当有人问起你的爱人时,你会因为撒谎让你的爱人消失而受到一点伤害。最终,当"秘密"成为常态时,伤口会变硬,你不会感到任何疼痛。或许这就是成年人的意义。但是,如果你试着抗拒哪怕是谦虚的放弃,即使你无法改变世界,你也能在自己身上种下一颗璀璨的种子,发现一个你不知道的新自己,你人生的转折点。
When someone asks you about your lover, you get hurt a little by telling lies that make your lover disappear. Eventually, when the 'secret' becomes the norm, the wound will harden and you won't feel any pain. Maybe that's what it means to be an adult. However, if you try to resist giving up even modestly, even if you can't change the world, you will be able to create a bright seed within yourself and discover a new you that you didn't know. It can be a new turning point in your life.