导演:瓦伦·格罗弗
编剧:瓦伦·格罗弗
主演:阿达尔·古拉夫、斯旺德·基尔基尔、舒布拉杰约蒂·维斯特、切坦·夏尔马、阿什瓦特·巴特
制片人:梅农·阿里亚、舒巴姆·卡纳、萨尼塔·奇蒂拉普利、安托·奇蒂拉普利
摄影:西尔维斯特·丰塞卡
类型:剧情短片
时长:17分
完成时间:2021
对白语言:英语、印地语
字幕:英语
地区:印度
制片公司:奇偶影业公司、纽顿电影公司
Director: Varun Grover
Screenwriter: Varun Grover
Cast: Adarsh Gourav, Swanand Kirkire, Shubhrajyoti Barat, Chetan Sharma, Ashwath Bhatt
Producer: Arya Menon, Shubham Karna, Sanita Chittilappilly, Anto Chittilappilly
Cinematographer: Sylvester Fonseca
Genre: Drama, Horror, Fiction
Length: 17min
Year: 2021
Dialogue: English, Hindi
Subtitles: English
Region: India
Production Company: Odd and Even Pictures, Newton Cinema
故事梗概 Synopsis
在预映会上,年轻的导演期待着他的科幻电影新作能够通过印度审查委员会保守派人士的"无删减"认证。
委员会在电影中看到了一个特别的接吻镜头,其时间超过了官方规定的荧幕接吻时长。在导演和委员会成员就这个接吻的时长争论不休时,物理定律开始瓦解。
At a preview theatre, a young filmmaker waits in the hope of getting his new sci-fi drama certified with "no cuts" by the conservative men of the Indian Censor Board. 
The board finds a particular kissing scene in the film beyond the duration stipulated by official, orthodox rules. As the filmmaker and board members argue over the length of the kiss, the laws of physics disintegrate around them.
导演介绍 Director Biography
瓦伦·格罗弗是一名来自印度孟买的编剧、单口相声演员和诗人。《独自远行》(2015)是他作为编剧的处女作,被第 68 届戛纳电影节的"一种关注"单元选中,并获得国际影评人协会奖及该单元的"前途无量"奖。同时,他也是印度网飞广受好评的首部原创剧集《神圣游戏》(2018-2019)的主编剧和执行制片人。
Varun Grover is a screenplay writer, standup comedian, and poet based in Mumbai, India. Masaan (2015), his debut feature as a screenplay writer, played in Un Certain Regard section at 68th Cannes Film Festival and went on to win FIPRESCI Jury as well as Promising Future prizes in the section. He is the lead writer and Executive Producer of Netflix India's critically acclaimed first original series, Sacred Games (2018 – 2019).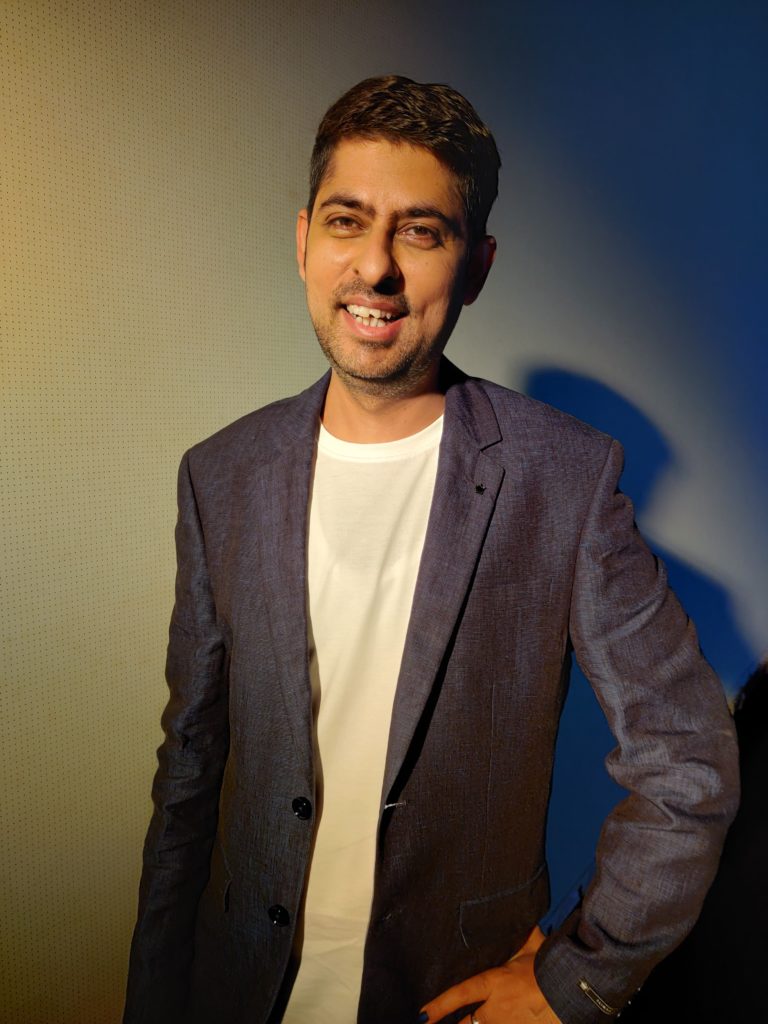 导演阐述 Director Statement
羞耻和骄傲,这两种独属于人类的情绪,对现代文明的塑造起到了重要作用。世界各地右翼权威的崛起使它们成为过去十年里每一次游行的亮点。通过这部影片,我想在一个不太常见的背景设定和电影类型中探寻这些情绪的起源。科幻和心理剧的结合恰好能够用来讲述这个荒诞的,关于欲望、羞耻和一厢情愿的愿景的故事。
Shame and pride, two uniquely human inventions, have been instrumental in shaping modern civilizations. The rise of right wing authority across the world has made these emotions the showstoppers of every parade last decade. With Kiss I wanted to explore the origin of these concepts in an unusual setting and genre. Sci-fi and psychological drama gave me just the right tools to tell this bizarre tale of desire, shame, and wishful fantasy.