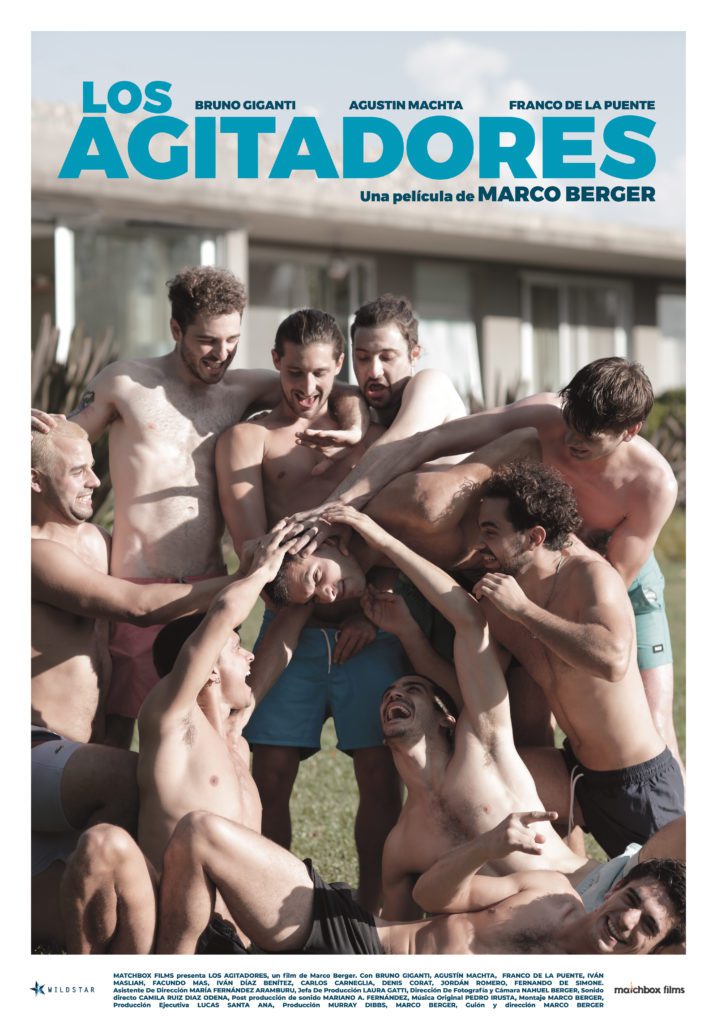 导演:马可·伯格
编剧:马可·伯格
主演:布鲁诺·吉甘蒂、奥古斯丁·马赫塔、弗朗哥·德拉普恩特、伊万·马斯利亚、法昆多·马斯、伊万·迪亚斯·贝尼特斯、卡洛斯·卡内基利亚、丹尼斯·科拉特、乔丹·罗梅罗、费尔南多·德西蒙尼
制片人:穆雷·迪布斯、马可·伯格
摄影:纳韦尔·伯格
类型:剧情长片
时长:103分
完成时间:2022
对白语言:西班牙语
字幕:英语
地区:阿根廷
制片公司:火柴盒电影
Director: Marco Berger
Screenwriter: Marco Berger
Cast: Bruno Giganti, Agustín Machta, Franco De La Puente, Iván Masliah, Facundo Mas, Iván Díaz Benítez, Carlos Carneglia, Denis Corat, Jordán Romero, Fernando De Simone
Producer: Murray Dibbs, Marco Berger
Cinematographer: Nahuel Berger
Genre: Feature
Length: 103min
Year: 2022
Dialogue: Spanish
Subtitles: English
Region: Argentina
Production Company: MATCHBOX FILMs
故事梗概 Synopsis
炎热的阿根廷夏天,一群伙伴们聚在一起享受假期和聚会,他们喝酒、狂欢,并拍下他们的伙伴们的裸体和性爱视频。但是在这个狂乱的马戏团中埋藏着一个罕见的恐同者,虽然看似平静,但是嫉妒和暴力已经悄悄现身。一个被压抑的同性恋者、一个秘密的双性恋男孩和一个恐同者,他们之间扭曲的三角朋友关系,将把紧张关系推向极限。
In the hot Argentine summer a group of mates get together to enjoy the holidays and party. They drink, party hard and make videos of their mates naked, and in sexual situations. A rare mix of homophobia and horseplay comes together, however under the surface jealousy and violence begin to emerge. A twisted triangle of friends between a repressed gay, a secret bisexual boy and a homophobe will push tensions to the limit.
导演介绍 Director Biography
马可·伯格出生在阿根廷,他毕业于布宜诺斯艾利斯电影大学。他的第一部短片《手表》参加了戛纳和圣丹斯电影节,随后拍摄的第一部长片《B计划》迅速成为世界酷儿电影经典。伯格的第二部电影《缺席》赢得了2011年柏林国际电影节的泰迪熊奖。继《夏威夷》之后,他的第三部电影《蝴蝶》在柏林国际电影节上放映,随后在圣塞巴斯蒂安国际电影节上赢得了塞巴斯蒂安·拉蒂诺奖。他的第五部电影《跆拳道》赢得了莫洛迪斯特电影节的阳光兔子奖。马可还三次获得阿根廷著名的银鹰奖提名,并有一次获奖。《金发男子》是他的第六部电影,在悉尼的酷儿银幕电影节上进行了世界首映。2020年他的电影《猎情人》在鹿特丹国际电影节上进行了世界首映。
Marco Berger was born in Argentina. He studied at Universidad del cine in Buenos Aires. His first short, The Watch, competed in Cannes and Sundance. Plan B, his first feature, quickly became a classic in queer world cinema. His second film Absent won the Teddy Award for best feature in Berlinale 2011. After Hawaii, his third film, he presented Butterfly in Berlinale and later won the Sebastiane Latino in San Sebastian Film Festival. Taekwondo his fifth film won the Sunny Bunny Award at the Molodist Film Festival. Marco was also nominated three times and winning one time for the prestigious Silver Condor Award in Argentina. The Blond One is his sixth film that had the World Premiere at the Queer Screen Mardi Gras Film Festival in Sydney. The Hunter is his latest film and had the World Premiere at International Film Festival of Rotterdam 2020.
导演阐述 Director Statement