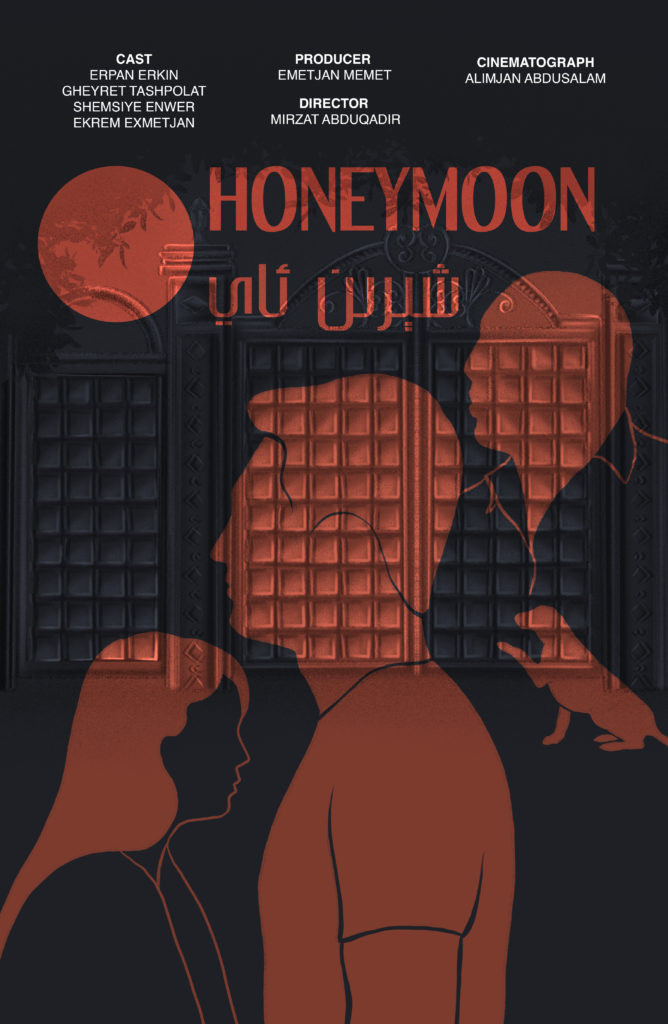 导演:米尔扎提·阿不都卡迪尔
编剧:艾麦提·麦麦提 米尔扎提·阿不都卡迪尔
主演:伊尔凡·艾尔肯 艾热提·塔什普拉提
制片人:艾麦提·麦麦提
摄影:阿力木江·阿不都沙拉木
类型:剧情短片
时长:24分
完成时间:2022
对白语言:维吾尔语
字幕:中英
地区:新加坡
制片公司:左旋电影私人有限公司
Director: Mirzat Abduqadir
Screenwriter: Emetjan Memet, Mirzat Abduqadir
Cast: Erpan Erkin, Gheyret Tashpulat
Producer: Emetjan Memet
Cinematographer: Alinjan Abdusalam
Genre: Featured short
Length: 24min
Year: 2022
Dialogue: Uygur language
Subtitles: Chinese, English
Region: Singapore
Production Company: LEVO Films Pte. LTD
故事梗概 Synopsis
本打算去海南岛度蜜月的计划被疫情打乱,新婚夫妇艾克热木和阿迪拉将就来到了北部的伊犁,入住到亚力坤大哥开的民宿,亚力坤也热情的接待了他们。在此期间,阿迪拉被亚力坤的侄子约瑟夫所吸引。第二天早晨,艾克热木突然带着阿迪拉离开了民宿,这使得阿迪拉感到费解和不安。
Disrupted by the pandemic, the newlyweds Akram and Adila had to change their original honeymoon plan to Hainan and went to the north of YIli unwillingly. They lived in Brother Yalikun's house and gained his warmly welcome. For the meantime, Akram was attracted by Brother Yalikun's nephew Joseph. The next day, Akram left the house with Adila in a sudden, which maked Adila so confused and anxious.
导演介绍 Director Biography
米尔扎提·阿不都卡迪尔 (Mirzat Abduqadir)1994年出生于新疆阿克苏,本科就读于北京外国语大学。2015年开始自学电影制作,长时间研读电影学及当代电影理论。并先后参与制作多部国内外关注度较高的新锐导演的作品,2020年拍摄的剧情短片《Friends》入选2020戛纳导演双周,并入围第十三届北京酷儿影展等多个电影节。2021年拍摄的剧情短片《The Pet》入围第十六届华语青年电影周等多个电影节。2022完成长片处女作和剧情短片《Honeymoon》。
Mirzat Abduqadir born in Aksu in 1994 and studied at Beijing Foreign Studies University. In 2015, he began to learn filmmaking and study film and contemporary film theory by himself. Moreover, he has participated in the production of several works of emerging directors with high attention at home and abroad. In 2020, the short feature film Friends was shortlisted in the 2020 Cannes Director's Biweekly. In 2021, the short feature film The Pet was shortlisted in the 16th Chinese Youth Film Week and other film festivals. In 2022, he completed his long-length film debut and short feature film Honeymoon.
导演阐述 Director Statement
作为创作者在我看来,最重要的是电影中每个角色身上的生命力,这也是我拍作品的持续动力所在。在《蜜月》中我想让观众直接感受到的也是这一点,充沛的非生理性力比较多。从每个角色身上的困境中描述出那些不可名状却又与每个人息息相关的微妙情绪记忆。还有就是主流社会当中,当少数群体遭遇一些涉及群体身份的不公和威胁时,我看到的是自我怀疑,自我排斥和想方设法脱离群体,撇清与群体的关系。有的甚至会进一步怀疑自己的出生、性别、性取向、身份、家庭、信仰等等。这是时代的问题,也是人的问题。受此刺激我拍了这部片子,性少数群体也是遭遇类似问题的少数群体之一,在拍《蜜月》时,我选择同性问题为出入口,也使得它成为第一部直接涉及同性题材的维吾尔语电影,有一定的地域性和社会价值。在创作方法上我通过时空的切换来寻求真实与谎言的界限和平衡点。在人物塑造方面我没有过多的关注人物的道德焦虑,因此本片的戏剧性并不强。在我看来,一个宿命论为主导的社会里,人们一般会把问题抛给时间来达到自我安慰。
From my perspectives as a creator, the vitality of the characters is the most important thing and my continuous motivation to filmmaking which is also what I want to express directly to audiences in Honeymoon. It has abundant of non-physical tension. Encapsulated from every character's dilemma, the subtle emotional experience related to everyone but beyond language is filmed. What's more, when the minorities have encountered injustices and threats in the mainstream society because of their identities, as I saw, they are suffering self-doubt and self-rejection and choose to separate themselves from the community and some will even refuse the facts of their birth, gender, sexual orientation, identity, family, belief and so on, which is not only a problem caused externally by this age but also from the human's internality. Inspired by this, I shot this film, Honeymoon, whose topic is related to LGBTQIA+, because they are also facing this kind of problem. And it is also the first film in Uyghur related to LGBTQIA+ and has regional and social value. I attempted to find the boundary and balance between truths and lies with methods by switching time and space. Not paying so much attention to the moral anxiety of the characters, the film is not so dramatic. In my opinion, people tend to let the problem unsolved and throw it into the time for comforting themselves in a society highly affected by fatalism.