导演:胡楷翔
编剧:胡楷翔
主演:黄亭开 胡楷翔
制片人:胡明航 孙伟乐
摄影:辜宇鹏
类型:剧情短片
时长:20分
完成时间:2022
对白语言:中文
字幕:中英
地区:中国大陆
制片公司:中国传媒大学戏剧影视学院
Director: Hu Kaixiang
Screenwriter: Hu Kaixiang
Cast: Huang Tingkai, Hu Kaixiang
Producer: Hu Minghang, Sun Weile
Cinematographer: Gu Yupeng
Genre: Narrative Short
Length: 20min
Year: 2022
Dialogue: Chinese
Subtitles: Chinese, English
Region: China
Production Company: School of Theater, Film and Television, Communication University of China 
故事梗概 Synopsis
那年夏天,我在海边拍戏,遇见了他,我当时在演一具漂浮的尸体,他以为我跳海自杀,在岸边"救"起了我。那之后,我对他一见钟情。我带他去看我所有我喜欢的电影,向他倾诉我对死亡的向往,我问他等我死后他能不能来参加我的葬礼。他不再能忍受,离我而去。当一切结束,我坐在电影院看着银幕上我们的故事时,我意识到这一切都是我的臆想,但我也愿意沉迷在这个虚假的故事中。
One summer, I was filming by the seaside, and I met him. I was playing as a floating dead body. He thought that I committed suicide by drowning, and "saved" me by the seaside. I fell in love with him right away. We went to watch all the movies I loved; I talked to him about my fascination with death. I asked if he would come to my funeral after my death. He could no longer bear with that and left me. After all the incidents, I sit in the theater, looking at the big screen, watching our stories taking place, and realize that everything is my imagination. Yet, I would love to stay in that fictional story.
导演介绍 Director Biography
胡楷翔,2002年8月9日出生于广东省深圳市,现就读于中国传媒大学2021级导演系。于2022年2月8日拍摄第一部私影像短片《全家福》,由爸爸妈妈妹妹和自己一家四口出演,讲述了我的家庭被我的性向蒙住了一层"阴影",但大家都闭口不谈,看似开心,但暗流涌动。2022年8月2日拍摄《在我坟上起舞》。
Hu Kaixiang was born in Shenzhen, Guangdong on August 9, 2002, a current directing major student at Communication University of China. He filmed his first personal video essay, Quan Jia Fu (Family Portrait), on February 8, 2022. All his family members—himself, together with his parents and the younger sister—were portrayed in the film, revealing how his sexual orientation brings a shadow to this family. Everyone avoids talking about it and pretends to be fine with the thing. On August 2, 2022, he filmed Dance on My Grave.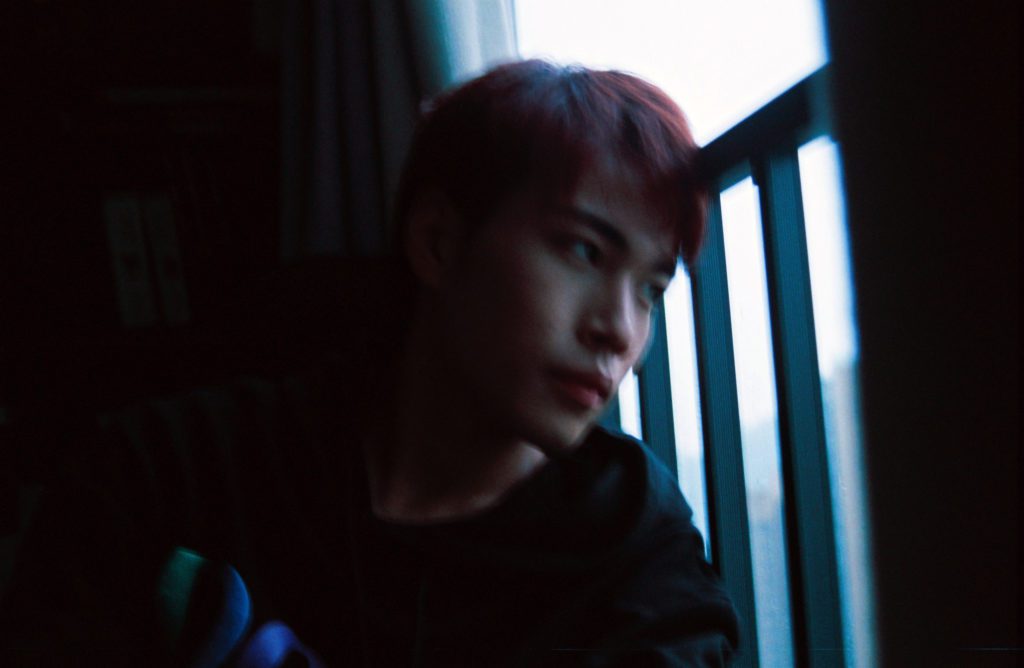 导演阐述 Director Statement
最初的剧本第一稿我是想改编艾登·钱伯斯的《在我坟上起舞》,但因为本土化属实有些困难,便开始写自己的故事。这部片子几乎是按照自己的真实故事的改编,可能多了很多看似很浪漫的场景,可以说是我的臆想,也可以算是我对爱情这件事的向往。开始学电影之后的梦想,就是可以拍出一部我满意的酷儿电影,这算是我的第一次尝试,虽然有很多瑕疵,但我觉得以我目前的能力,这已经是给我自己很好的一份答卷。故事设定可以理解为一次幻想,因为一见钟情而产生的幻想,就像生活一样,我总会一见钟情,但也总会因为性向铩羽而归,片子中用了《那耳喀索斯》的画,海报也融入了"双生"的概念。我塑造"他"这个角色,有融合很多我和我前任们的影子,gay圈里性关系的开放,我会迷茫于精神追求的相似还是肉体的吸引。而电影作为我自认为一个很私密的交流手段,我总会用在我的每段关系中,所以我用了自己自认为的迷影情节贯穿在了故事里面。死亡,对于我来说是一个很重要的议题,从初中开始因为恐惧死亡无法入睡,到假死两次后对死亡的未知的向往,当然也受钱伯斯的小说的启发。所以我将片子命名为在我坟上起舞,一个小小的愿望,就是可以等我死后,还有人能看到我留下的片子,能记得我这个人。
I was intended to adapt Aidan Chambers' Dance on My Grave. However, it was hard to turn that story into one under the Chinese cultural society. Instead, I started to work on my own story. This short film was almost based on my personal story, probably based on similar romantic moments I had seen, my own imagination, or my yearning for love. After learning filmmaking, I dreamed about making a satisfying queer film. This was my first attempt. Even though there were many flaws, I felt proud of myself based on my ability for now. The story could be seen as a fantasy—a fantasy caused by a crush. In real life, I also have many crushes, loves at first sight, but fail to get more out of them because of my sexual orientation. Caravaggio's painting, "Narcissus" appears in the short; the poster also includes the idea of "twinning." I created "him" as a mixture of myself and many of my ex-s. Because of the openness about sex among gay people, I sometimes feel lost between the attraction towards spiritual souls and physical bodies. Film, as a very personal way of communication to me, was brought up in every single relationship I had before. Thus, I employ "cinephilia" in this short film as well. Death is also an important topic to me—from being too afraid of death to fall asleep in junior high, to developing a yearning for the unknown of death after experiencing suspended animation twice. Together with the inspiration brought by Chambers' novel, I gave this name, Dance on My Grave, to my short film. There is a small wish that people can still watch the films I made and left to the world, remembering me.