导演:阿米尔·奥瓦迪亚·斯特克洛夫
编剧:阿米尔·奥瓦迪亚·斯特克洛夫
主演:阿米尔·奥瓦迪亚·斯特克洛夫 伊内斯·莫尔达夫斯基 罗尼·多隆 蒋欢
制片人:阿米尔·奥瓦迪亚·斯特克洛夫
摄影:阿米尔·奥瓦迪亚·斯特克洛夫
类型:动画短片
时长:16分
完成时间:2022
对白语言:英语
字幕:中英
地区:德国、以色列
制片公司:玻璃王子
Director: Amir Ovadia Steklov
Screenwriter: Amir Ovadia Steklov
Cast: Amir Ovadia Steklov, Ines Moldavsky, Rony Doron, Huan Jiang
Producer: Amir Ovadia Steklov
Cinematographer: Amir Ovadia Steklov
Genre: Short animation
Length: 16min
Year: 2022
Dialogue: English
Subtitles: Chinese, English
Region: Germany, Israel
Production Company: The Glass Prince
故事梗概 Synopsis
《我的双性恋人生》是一部短小、有趣、私人的动画片,讲述了阿米尔作为一位顺性别双性恋男性的生活历程。影片讲述了阿米尔从幼年到现在的故事,着重展现他为适应二元性别文化所做出的努力,而这使他不仅不被异性恋群体所接受,在LGBTQIA群体中也不受关注。
玛雅·拉维-阿贾伊博士和博士生泽伊纳布·诺布瓦提参与了影片中的历史/社会讨论,为影片主题提供酷儿和女权主义理论的背景知识。他们还阐明了现代西方二元性别文化的隐秘机制,以及非二元性别者努力适应社会的现实。
Bi The Way is a short, funny, and intimate animated film about Amir's life- journey as a bisexual cis man.The film tells Amir's story from early childhood until present day, highlighting his struggle to fit into binary culture making him unacceptable to the heteronormative community and invisible in the LGBTQIA community.
Dr. Maya Lavie-Ajayi and PhD candidate Zeinab Nobowati join in on the films historical-social discussion, providing background knowledge in queer and feminist theories to the subject matter of the film. They also shed light upon the hidden mechanisms of the modern western binary culture and why non-binary people struggle to fit in.
导演介绍 Director Biography
阿米尔·奥瓦迪亚·斯特克洛夫是居住在柏林的以色列电影人/动画师。他的电影涉及以下热门话题:种族主义、LGBTQIA、移民和犹太身份,他将之整合于一个性积极的框架中,并运用了黑色幽默。阿米尔于2013年毕业于山姆·史匹格电影学院,并从那时起作为独立电影剪辑师和动画师工作。他也是德国柏林不断发展的酷儿/活动家/电影制作人运动的一部分。
《我的双性恋人生》(16分,2022)
《别做个屌丝!》(10分,2020)
《充电》(2分,2020)
《两壁之间》(30分,2019)
《哈姆迪》(5分,2015)
《烟花》(3分,2007 – 2015)
《下辈子》(5分,2014)
《TESLA》(∞分,2014)
《奇乐可乐》(4分,2013)
《灵魂暗夜》(10分,2012)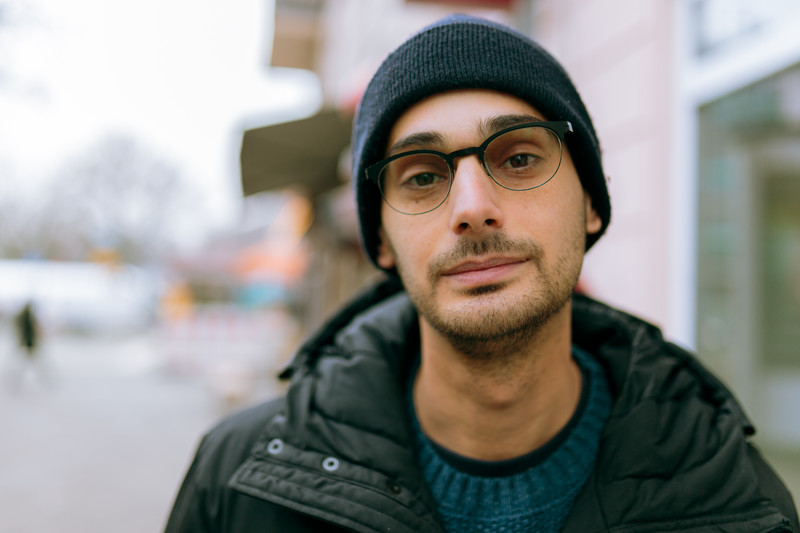 Amir Ovadia Steklov is a Berlin based Israeli filmmaker /animator. His films are dealing with burning topics of: Racism, LGBTQIA, immigration and Jewish identity, he put them in a sex-positive framework and combined with dark humor.Amir graduated from Sam-Spiegel Film School in 2013 and worked as an independent film editor and animator since then. He is also part of a growing movement of queer-activists-filmmakers in Berlin Germany.
Bi The Way (16, 2022)
Don't Be a DICK! (10min, 2020)
Charging Up (2min, 2020)
Between Two Walls (30min, 2019)
Hamudi (5min, 2015)
Fireworks (3min, 2007 – 2015)
In The Next Lifetime (5min, 2014)
TESLA (∞min, 2014)
Kilo Coke (4min, 2013)
Dark Night of the Soul (10min, 2012)
导演阐述 Director Statement
我制作这部影片的动机是非常私人化的:作为一位酷儿/性恋的顺性别男性,我的性身份为我带来了非常独特的生命历程,且我一生都在研究这个话题。因此,我相信我对此有很多话要说。
作为一位双性恋者是非常奇异的:我从来不觉得自己100%属于同性恋群体,也不觉得自己100%属于异性恋世界,我觉得这些群体从未真正接受过真实的我。通过这部电影,我希望在国际上为像我这样在二元性别世界中努力寻找自己的位置的人而发声。
My motivation for making this film is very personal: As a queer-bisexual cis man, I had a very unique life·journey with my sexual·identity, and I researched this topic my entire life. Thus, I believe I have a lot to say about it.
Being bisexual is very queer: I never feel 100% belong to the gay community and also not 100% belong to the heteronormative world. I also feel these communities never really accept me for who I real am. I would like this film to be an international voice of people like me, who straggle to find their place in our binary world.