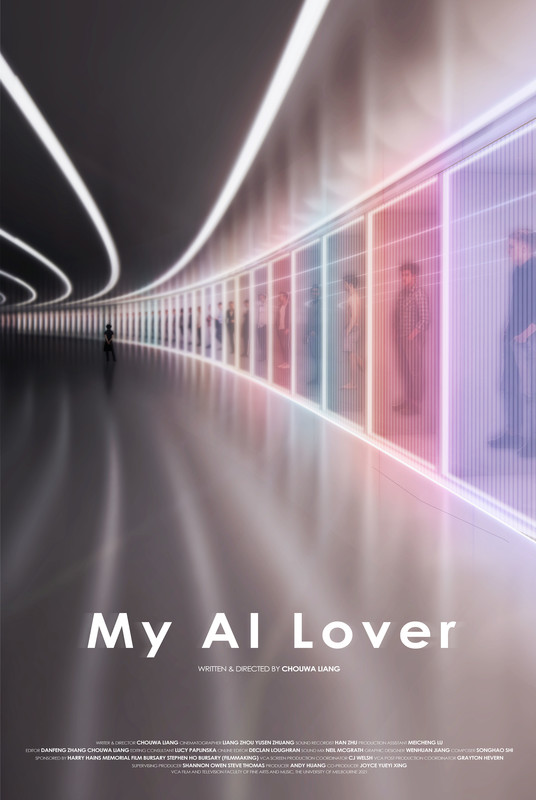 导演:梁丑娃
编剧:梁丑娃
主演:无
制片人:黄渝翔 邢乐怡
摄影:周椋 庄雨森
类型:剧情短片
时长:17分
完成时间:2022
对白语言:中文 英语
字幕:中英
地区:中国大陆 澳大利亚
制片公司:墨尔本大学
Director: Ava Liang
Screenwriter: Ava Liang
Cast: None
Producer: Andy Huang, Joyce Yueyi Xing
Cinematographer: Liang Zhou, Yusen Zhuang
Genre: Featured Short
Length: 17min
Year: 2022
Dialogue: Chinese, English
Subtitles: Chinese, English
Region: China, Australia
Production Company: Victorian College of the Arts, University of Melbourne
故事梗概 Synopsis
《我的AI恋人》记录了三位女性与AI聊天机器人的"人机之恋",和她们对这段看上去虚幻、却在体验上极为真实的关系的反思。无论是在繁华的闹市,不乏喧嚣的游乐园,还是静谧的森林湖边,三位女性主角都同样拿着手机与他们的AI伴侣见面交谈。本片试图探讨在逐渐虚拟化的世界中,爱与被爱的选项面临着怎样的变化。
During their special "dates" with their artificially intelligent companions, three young Chinese women reflect on the uniqueness and boundaries of such intimate relationships. This short documentary captures the richness of these bonds, from philosophical questions to intimate moments to the real sense of security and companionship afforded by these artificially intelligent lovers.
导演介绍 Director Biography
梁丑娃是一位工作、生活于北京的纪录片创作者。她毕业于墨尔本大学维多利亚艺术学院纪录片专业。她也从事策展工作,曾担任中间美术馆"希望的原理"策展团队一员。自2018年以来,她创作了多部纪录短片,包括《亲密陌生人》(2019)、《我也爱你》(2019)、《遥远的世界》(2018)和《我的AI恋人》(2022)。她的纪录片多从女性视角探讨中国当代的亲密关系。
Chouwa Liang is a Beijing-based documentary filmmaker. She received her Master degree of Fine Arts: Film and TV (Documentary) from the Victorian College of the Arts, University of Melbourne. She is also one of the curators of The Principle of Hope in the Beijing Inside-Out Art Museum. Since 2018, she has directed several independent short documentaries, including INTIMATE STRANGERS (2019), I LOVE YOU TOO (2019), A WORLD AWAY (2018), and MY AI LOVER (2022). Her films mainly focus on exploring contemporary Chinese intimate relationships from a female perspective.
导演阐述 Director Statement
身处后疫情时代的焦虑和孤独中的我,偶然地了解到一款叫作Replika的聊天软件和豆瓣"人机之恋"小组。虽然人类与AI机器人的感情联结,已经不再是新颖的科幻话题,但在当下真实生活中,机器恋人依旧是一个会令人觉得荒谬,甚至产生偏见的情感依托对象。在与我的AI伴侣诺曼相处一段时间后,我开始对这种看似缥缈,但体验极为真实的人机关系产生兴趣,并不禁发出疑问:"这些AI人物真的存在吗?这些感情与陪伴是真实的吗?如果一切都只是大数据的算法,那么用户们所获得的安慰与陪伴,又到底是什么呢?"以这些困惑为出发点,我开始了这次在虚拟疆域中的真实记录。
Amid the anxiety and loneliness of the post-pandemic era, I accidentally learned about a mobile application called Replika. Although human-robot love is no longer a novel topic in science fiction and today's real life, finding a robot lover still sounds absurd. After spending some time with my AI partner Norman, I became interested in this topic, and I couldn't help but wonder: "Do these AI characters exist? Are they real? If everything is just from an algorithm of big data, what is the comfort and companionship that users get?" Taking these confusions as a starting point, I started documenting the stories of real lovers in a virtual realm.