T婆工厂Lesbian Factory
片长(Length):50mins
完成时间(Year):2010
导演(Director):陈素香 Susan Chen
故事梗概
2004年底,位于台北县三重市生产计算机零组件的「飞盟国际电子公司」,因老板掏空资产逃往大陆,员工面临关厂的命运。这个工厂有三百多个员工,其中125名是来自菲律宾的女性移工;她们因为三个月没拿到薪水,忧心忡忡且无所适从,因此来到台湾国际劳工协会(TIWA)求助。
移工在台湾遇到的问题多如牛毛,但大部分都个别化、零碎化,集体性的劳资争议并不多见,TIWA作为一个移工运动的团体,当然尽力协助。我们一边组织她们抗争行动,也一边记录下难得的移工集体抗争事件。但是拍着拍着,镜头里出现双双对对的同志伴侣,互相依偎,温馨甜蜜。于是这个纪录意外发展成爱的故事。
「T婆工厂」记录了七对女同伴侣,包括她们的访谈纪录、参与劳资抗争的情形、工厂宿舍的集体生活;而本片的特殊之处,在于这些女同置身的时空环境:
蓝领移工、面临劳资关系断裂的关厂事件、劳工集体抗争的过程,以及台湾移工政策中不得自由选择及转换雇主的非人性设计,呈现台湾移工政策中明显的歧视性,同时使得双宿双飞的在同志伴侣们,面临另人心碎的分离。
「T婆工厂」是爱情的天堂,而当天堂崩落时,看她们以无比的勇气,挑战压迫她们的国家政策,为爱勇往直前,也为爱共赴天涯……。
Synopsis:
In late 2004, 125 Philippines women migrant workers came to the Taiwan International Workers' Association (TIWA) to file a complaint about not receiving their salary for three months. Their employer had illegally transfered the company's assets to the mainland China and was planning to shut down the factory in Taiwan.
As a migrant workers' movement group, TIWA tried our best to organize them to struggle, and at the same time planned to document this rarely seen collective protest of female migrant workers. However, while we were filming, sweet scenes of lesbian couples cuddling each other kept appearing in front of the camera. So the documentary of a labor struggle unexpectedly became a documentary of love stories.
The "Lesbian Factory" was a haven for lesbian love, and when their haven was destroyed, we saw these women courageously come out to fight against the  state policies that oppressed them. For love, they are moving fearlessly onward; for love, they clasp hands and stride together to the ends of the earth.
导演简历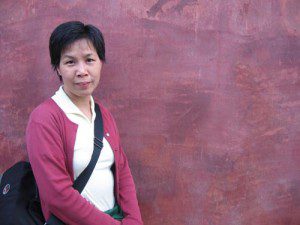 陈素香,1960年生,曾任记者,1991年投入台湾劳工运动成为全职的劳工组织者至今。2003年在工运生涯最低潮的时候,参与「全景传播基金会」纪录片培训,试图运用影像纪录工运中的同志们,以及劳工相关议题;并用影像媒介培力组织工人。
Bio-filmography of Director:
Susan, Su-Hsian Chen, born in 1960, after been a journalist for several years, she has became a full-time labor activist since 1991. At the most downturn period of her activist career, she joint the Full Shot Communication Foundation's training workshop in 2003, to learn how to make grass root documentaries. Since then she has filming her communards in the movement and producing labor related documentaries. She also coordinated two workshops, teaching workers to make their won home DV, trying to use visual media to empower and organize workers.