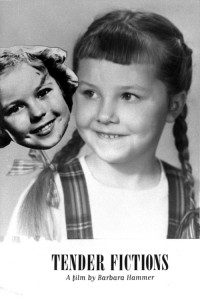 柔情告白 Tender Fictions
1995,58mins,16毫米,彩色/黑白/有声16 mm film, color/B&W/sound.
摄影/录音/剪辑Camera/Sound/Editing:Barbara Hammer
故事梗概
先锋电影人,女性主义者,酷儿芭芭拉汉默没有等待别人,而是自己构思了自传。这是她1992年的获奖作品《硝酸盐之吻》的后后现代续篇。
年轻女同性恋艺术家的童年故事以及亲密经历,是拍摄者生活的重头戏。她在摩洛哥用瑞士军刀抢劫过美国快递,在妇女节搭讪过牧师。有个野心勃勃的母亲以秀兰邓波儿为偶像打造自己的孩子,汉默曾在好莱坞大道的儿童星跳过踢踏舞。
这些故事扣人心弦,那理论挑逗你的智力,游走在真实与虚构之间的精致台词,混合了催眠般的密集蒙太奇,让人感受到刺激与兴奋。
Synopsis:
Pioneer lesbian-feminist filmmaker Barbara Hammer constructs an autobiography before someone does it for her in this post-post-modern sequel to her 1992 award-winning documentary Nitrate Kisses.
Childhood stories of the artist as a young lesbian and intimate tales of the lesbian as a young artist underscore the filmmaker's life of performances.  She robs an American Express in Morocco with a Swiss army knife and accosts a shepherd in a field on International Women's Day.  Shirley Temple was the ideal by which Hammer's ambitious mother measured her own Barbie, so Hammer tap dances on the the child's star on Hollywood boulevard.
The stories will tug at your heart, the theory teases your intellect, and the fragile line between truth and fiction provokes you in this dense and hypnotic montage.