郭浩然 我就问你能不能改
Guo Haoran, Just Tell Me if You Can Change!
导演|小莫
编剧|小莫
主演| 大可、牟磊、王文轩、卡西法、恒晨、李静云、龙麓丞、韩鹏、黄桃、阮宇虹、一舟、陈静、刘霄、赵朗甯
制片人|卡西法
摄影|Chen
类型|音乐短片
时长|8分56秒
完成时间|2021
对白语言|中文
字幕|中文
地区|中国
制片公司|北京酷儿合唱团
故事梗概
2020年春节,郭浩然因为疫情无法回家过年,除夕夜,他和一众好友聚在一起,却心事重重。朋友问及时,他说:今年本想趁着过年回家向家里出柜,结果因为疫情没能回去,出轨的计划也泡汤了。于是他陷入了沉沉的思绪,在他内心的世界,一场出柜的狂想曲正在上演,面对父母亲戚的关切和因爱而带来的伤害,他无奈、纠结、失落。故事的最后,郭浩然和亲人们达成了和解。
导演介绍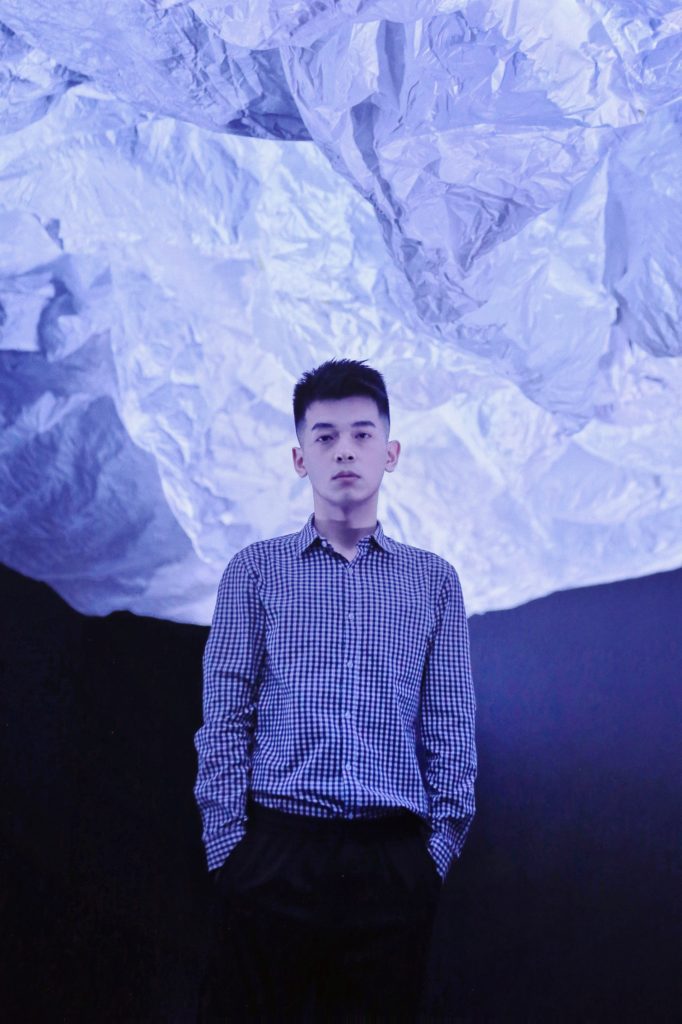 毕业于中国传媒大学,传媒行业从业者,节目编导。
陆续通过不同形态的视频作品,展现LGBTQ群体生活现状。在大学期间拍摄纪录短片《同志亦凡人》,记录时任飞赞网创始人凌绝顶在北京的同性婚礼。在2020年加入北京酷儿合唱团,依托北京酷儿合唱团的平台,通过原创合唱作品影像展现同志群体所共同面临的社会议题。
导演阐述
《郭浩然》是北京酷儿合唱团的春节原创企划作品,在策划阶段决定将视角转向"春节出柜"这个极具冲突又极具共鸣的选题。通过歌舞剧的形式表现主人公想象当中的一场出柜狂想曲,在想象世界里,整个过程从家人不解、正面冲突,到互相倾诉,最终彼此理解,基本涵盖了很多人出柜的典型经历。合唱配合现代舞,将主人公的内心通过歌词和肢体语言娓娓讲述。整个创作团队希望通过这部作品给予拥有相似经历的朋友以力量。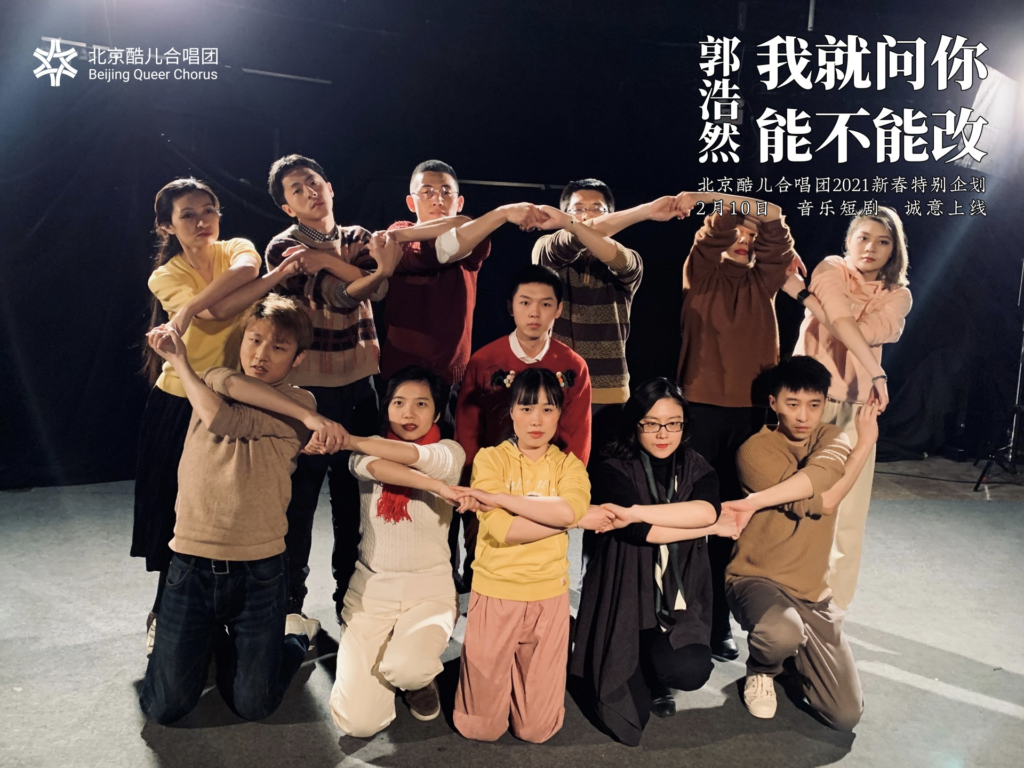 Director|Morrison
Screenwriter|Morrison
Cast|Cliff / Simon Mu / Amy / Calcifer / Lynn / Li Jingyun / Longlong / Harper / Vanessa / Rainbow / Yizhou / Summer / Liu Xiao / Albert Zhao
Producer|Calcifer
Cinematographer|Chen
Genre|Music Video
Length|8min56s
Year|2021
Dialogue|Mandarin
Subtitles|Chinese
Region|China
Production Company|Beijing Queer Chorus
Synopsis
In the Spring Festival of 2020, due to the pandemic, Guo Haoran cannot go home. He spends New Year's Eve with friends but appears to be preoccupied. When asked by his friends, he shares that originally he wanted to take advantage of the New Year to go home and come out to his family, but now that he cannot go back his plan to come out also fell through. Then he goes into deep rumination. Inside his mind, a rhapsody of coming out is playing out. Grappling with his parents' and relatives' concerns and the harm caused by their love, he feels helpless, torn, and upset. At the end of the story, Guo Haoran and his relatives reach a reconciliation.
Director Biography
Graduated from the Communication University of China, Morrison is a practitioner in the media industry working as a program director. Through different video forms, Morrison has been showing the current situation of the LGBTQ community in China. During Morrison's college years, Morrison filmed the short documentary Queer as Folk recording the same-sex wedding of Ling Jieding in Beijing, the founder of Feizan.com back then. In 2020, Morrison joined the Beijing Queer Chorus. Through the platform of Beijing Queer Chorus, Morrison shot and shared original videos of the chorus to present the social issues faced by the LGBTQ community.
Director's Statement
Guo Haoran is an original project of Beijing Queer Chorus for Chinese New Year. During the planning stage, we decided to turn to the topic of "coming out during Chinese New Year", which is a very conflicting but resonant topic. The main character's imaginary coming-out rhapsody is expressed through the form of a musical drama. The whole process that happened in his imaginary world ranges from family disagreement, upfront conflicts, to mutual confession and understanding, covering the typical experience of many queer people. The chorus with modern dance tells the main character's heart through lyrics and body language. The entire creative team hopes to give strength to friends with similar experiences.