姑奶奶
Madame
导演|邱炯炯
编剧|邱炯炯
主演|樊其辉
制片人|无
摄影|邱炯炯
类型|纪录片
时长|120分钟
完成时间|2010
对白语言|四川方言
字幕|中英
地区|中国
制片公司|星空间
故事梗概
在夜晚,他是华丽的、庄严的、刻薄的、胆怯的、恶毒的、势利的、羞涩的、不幸的、⻛情万种的、⺟仪天下的、冥顽不灵的碧浪达夫⼈的;⽩天没,他是京城⽂明的时尚裁缝樊其辉,裁缝是个健谈的⼈,他经常会去同性恋的专⻔的据点——⽐如公园和浴室寻找故事——邂逅,调情,做爱,吃饭……裁缝说他天⽣就喜欢男⼈。
在裁缝眼⾥,他的⽗⺟是不幸的;他的童年⼀直缺乏安全感,也没有什么意思。⻓⼤后的裁缝靠做⾐服的微薄收⼊供⾃⼰去了⼴州,他想在那⾥实现⾃⼰的理想——做⼀名⾛红的"妓⼥"……确实,他遇⻅了⼀些让他刻⻣铭⼼的男⼈——⽆论是在北京还是在⼴州——那时他还很年轻。
姑奶奶樊其辉有两重身份,健谈的裁缝,浪荡的碧浪达夫⼈。通过极具波普味道,放浪形骸的碧浪达夫⼈,裁缝哀悼着他⾃⼰不合时宜的尴尬身份。舞台上⿊暗悲伤的碧浪达,是裁缝的挽歌。
《姑奶奶》的记录⼿法⽆疑在做减法,直奔最极端的记录⽅式去了,除了歌曲演唱的记录,就只剩⾚裸裸的访谈,屏蔽了⼈物旁枝末节的其他现实。⿊⽩影调更是减法,消减掉⾊彩可能造成的多义,只留下⼀个单⾊世界。⽂本和对象度身订做,互为镜像,映照了对⽅。(何佳《MADAME》)
导演介绍
邱炯炯是⼀位跨越独⽴电影和绘画两条线索展开创作的艺术家。电影作品包括《彩排记》(2008)、《⻩⽼⽼拍案》(2009)2部短⽚,以及《⼤酒楼》(2007)、《姑奶奶》(2010)、《萱堂闲话录》(2011)、 《痴》(2015)、《椒麻堂会》(2021)5部⻓⽚。从《痴》到《椒麻堂会》,他完成了从早期以⼝述为主的纪录⽚到剧情⽚的过渡。家乡四川乐⼭和川剧世家的家族史是其影⽚中多次出现的主题,四川⽅⾔对⽩也是构成其影⽚独特⽂学趣味及叙事结构的重要因素。邱炯炯影⽚的独特性与他的画家身份密切相关,他的电影中存在着⼀种绘画性,从基于⼤量⽂本写作的剧本到⾼度依赖⼿⼯的制作⼿法,都提供了值得凝视与反复观看的体感温度。
邱炯炯的早期影⽚多次⼊选中国独⽴影像年度展⼗佳影⽚。《痴》⼊围第68届洛迦诺国际电影节、第15届MoMA国际纪录⽚双周及第40届⾹港国际电影节。《椒麻堂会》作为他的第⼀部剧情⻓⽚,于项⽬阶段获得⾦⻢创投会议CNC现⾦奖、荷兰⿅特丹HUBERT BALS FUND剧本及发展基⾦、⾹港亚洲电影投资会WHITE LIGHT后期制作⼤奖及法国⼤巴黎地区后期基⾦;成⽚于第74届洛迦诺国际电影节国际竞赛单元⾸映,并获得"评委会⼤奖"。
导演阐述
无。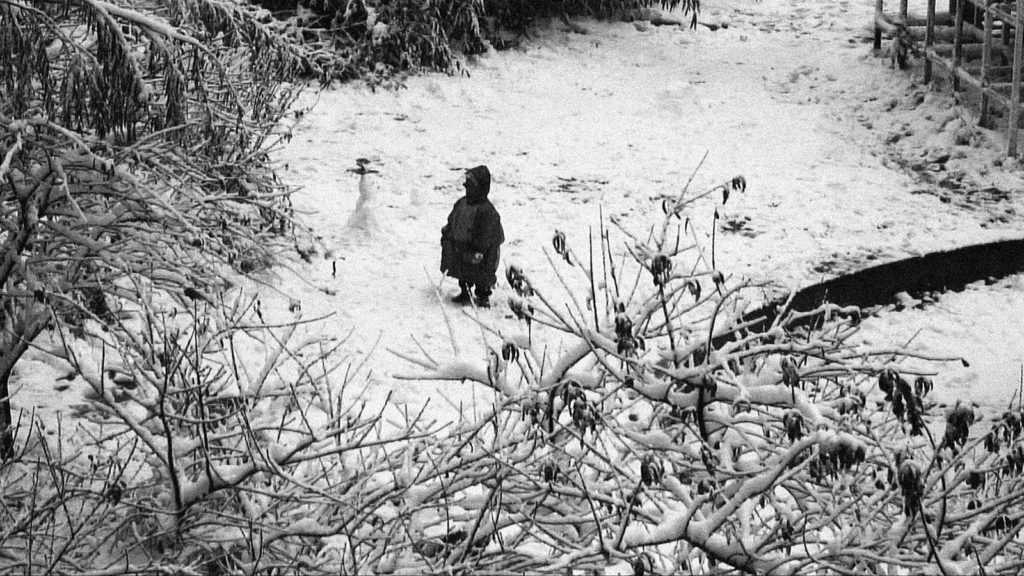 Director|Qiu Jiongjiong
Screenwriter|Qiu Jiongjiong
Cast|Fan Qihui
Producer|None
Cinematographer|Qiu Jiongjiong
Genre|Documentary
Length|120min
Year|2010
Dialogue|Sichuan dialect
Subtitles|Chinese, English
Region|China
Production Company|Star Gallery
Synopsis
In the night, she is the gorgeous, dignified, acrimonious, cowardly, malicious, self-interested, bashful, unfortunate, amorous, matriarchal and bullheaded Madame Bilan de Linphel. In the day, he is a tailor, who is fast talker. He often goes to the city's gays strongholds—parks and bathhouses—in search of stories – to meet by chance, flirt, make love, eat. Tailor said he was born to love men.
In Tailor's eyes, his parents are unfortunate, his childhood, dull and without a sense of security. After growing up, Tailor funded his journey to Guangzhou on the meager income he earned as tailor. He went to realize his dream: to be a highly sought-after
"gigolo." Indeed, he ran across some men who made their indelible marks—whether it was in Beijing or Guangzhou. He was young at that time.
Madame Fan Qihui has two identities: a talkative tailor, an indolent Bilan de Linphel. With a pop-infused flavor, a dissolute Madame Bilan de Linphel-cum-tailor lament the unseemliness of their dual identity. In the darkness of the stage, the desolate
Bilan de Linphel is the tailor's elegy incarnate.
Director Biography
Qiu Jiongjiong is an artist who works across two strands: independent film and painting. His films include two short films, Ode to Joy (2008) and A Portrait of Mr. Huang (2009), and five full-length films, The Moon Palace (2007), Madame (2010), My Mother's Rhapsody (2011), Mr. Zhang Believes (2015), and A New Old Play (2021). From Mr. Zhang Believes to A New Old Play, he has completed the transition from the early narrative-based documentaries to feature films. The family history of Qiu's hometown, Leshan, Sichuan, and his Sichuan opera family are recurring motifs in his films, and the Sichuan dialects are also important factors in the unique aesthetic and narrative structure of his films. The uniqueness of Qiu's films is closely related to his identity as a painter. From his script, which is based on a large number of script, to his highly manual production methods, there are always a remaining Painterly style, which provides a physical temperature that is worth gazing at and watching again and again.
Qiu Jiongjiong's early films have been selected as among the top-ten films in China Independent Film Festival more than once. Mr. Zhang Believes was selected for the 68th Locarno International Film Festival, the 15th MoMA Doc Fortnight, and the 40th Hong Kong International Film Festival. Qiu's first feature film, A New Old Play won the CNC Cash Award at the Taipei Golden Horse Film Project Promotion, the Hubert Bals Fund Script and Project Development in the International Film Festival Rotterdam, the White Light Post-Production Award at the Hong Kong – Asian Film Financing Forum during the project pitching session. The film was screened at the 74th Locarno International Film Festival and won the Special Jury Prize.
Director's Statement
None.