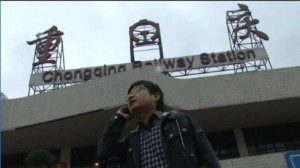 青阳
The Blue Sun
片长(Length):77mins
完成时间(Year):2008年
导演(Director):黄荣嵘 Huang Rongrong
制片人(Producer):王星 Wang Xing
摄影(Cinematography):黄荣嵘 Huang Rongrong
剪辑(Editing):黄荣嵘 Huang Rongrong
制作机构(Production Company):北京迷墙剧本咨询有限公司Beijing Pink The Wall Screenplay Consultation Co.Ltd
故事梗概:
2005年底,一篇博客让程青松的"同志"身份呈现在公众面前,身为编剧的他,成了著名的"出柜"人士。面对中国大陆网民,他讲述了自己与爱人小阳的关系。而此时的小阳,因为一桩盗窃案正关押在四川的监狱中。
身在狱外的青松急切地想要帮助失足的小阳,给他寄生活、体育用品,一有时间就去看他。青松说这些行为只是他发自本能的帮助,甚至并不以小阳回到他身边为前提。青和阳,各在大墙的两边,隔开三年。
2008年的4月,阳终于要出狱了,青兴奋地去接他,按照习俗给他放鞭炮除晦气,给他买全新的衣服……而阳的母亲却仍不能理解他们的这段感情,因此导致青和阳的激烈争吵。
面对冲突,他们是否能够度过?本片展现的是一段爱情故事,同时也折射出大陆同志运动的三年进程。
Synopsis:
End of year 2005, an article in screenwriter Cheng Qingsong's blog disclosed his homosexual identity in public. He became well-known for his announcement. He described his relationship with his lover Sun. At the time, Sun was in prison in Sichuan accused of theft.
Qingsong was anxious to help sun. He sent what Sun need to prison and went to visit him as long as he had time. Qingsong said he was trying to help Sun based on an instinct, and didn't expect Sun be back with him. Qing and Sun were separated for three years.
In April 2008, Sun finally was released and Qing went to pick him up. According to custom, Qing set off firecrackers and bought Sun new clothes, to dispel bad luck. Sun's mother still wouldn't understand Sun and Qing's love, and thus causes severe quarrels between Qing and Sun.
Can the two people handle their conflicts? The film shows a love story and the development of homosexual movement in the continent.
导演简历:
黄荣嵘
1982年出生
2002年毕业于苏州工艺美术学校雕塑专业
2009年毕业于北京电影学院2005级美术系(实验电影)专业
参展:
2006-"重突物语"日本横滨新媒体艺术大奖影像节
2006-"暖痕"中日影像艺术互动展 日本东京Video作品《在别处》
2006- IDAA国际数码大奖北京巡回展  互动作品《一个你看不到的自己》
2007-中国平遥国际DV影像艺术展竞赛单元 《水上的日子》最佳短片
2007-"分裂与融合"绘画与影像7人展
2008- 德国柏林亚洲热门短片电影节《水上的日子》入围
2008-UCCA尤伦斯当代艺术中心青年影像计划
2008-北京电影学院新媒体三年展
2008-"交叉"草场地纪录片工作坊《青阳》展映
Bio-filmography of Director:
Huang Rongrong
2005 –2009  Beijing Film Academy
Exhibitions:
2005        Virtual China Cyber Exhibition
2006        "Yokohama New Media Arts Video Festival", Yokohama Japan
2006  "QuickFlick World", Union Exhibition
2006  "Nuan Hen" China-Japan Video Art Exhibition
2006  IDAA(International Digital Artist Association)Union Exhibition
2007  Chain PingYao International DV Vision Arts Festival
2007-  "Ambiguity"(A painting and video exhibition derives from moving picture)
媒体刊登作品与采访
2006 《江苏画刊》《数码艺术》第九期
2007 《大众DV》第九期
2007 《TIMEOUT》第二期
2007 《DV时代》第十一期
2008  环球旅游频道http://you.video.sina.com.cn/b/14568791-1412022437.html
导演阐述:
我们太容易生活在自己的一个范围里面
就以为这个世界就是这个世界
其实生活里的那么多事情
何必说的那么清楚呢
就好像这部电影其实有很多前因后果
没必要讲那么清楚 因为都是我们身边的人
都是我们这个时代的事情
都是我们这个时代的故事
如果我们有个情怀
我们能够去理解
如果我们能够从自己的一个狭小的世界里
去观望别人的生活
当我们一个人的时候
我们有一种勇气 有种能力去
面对的时候
我们能够理解
或许我们有时候不能面对这样的生活或者这样的电影
是我们一整代人的懦弱
Director's Statement:
We live in our own world. We take it for granted. But if we go a bit further, or look around at our folks. We can't forget there are so many things in our life. We don't need to describe everything very clearly. Just like this movie, there are many causes and results. You don't need to tell everything. We are familiar with the people. These are all in our era. Our era's stories.If we have the passion we can understand. If we can walk out of our small world and look at other people's life. We can understand. Or if we once had such life that we are pretending to forget. When we are alone, we have courage, a kind of ability to face it, and we can understand. Maybe sometimes we can't face such life or such a movie. It is because of our whole generation's coward.