导演:弗洛伦特·古埃卢
编剧:弗洛伦特·古埃卢、拉斐尔·瓦尔布勒-德斯普莱辛
主演:巴勃罗·保利、罗曼·埃克、哈菲亚·赫兹、哈罗德·马洛特、马蒂亚斯·贾曼·洪尼科普、霍利·法特玛、卡里索普·巴基、让-马里·古埃卢
制片人:纳尔逊·格莱纳斯亚
摄影:瓦迪姆·阿尔萨依德
类型:剧情长片
时长:103分
完成时间:2022
对白语言:法语
字幕:英文
地区:法国
制片公司:Yukunkun Productions
Director: Florent Gouëlou
Screenwriter: Florent Gouëlou with the collaboration of Raphaëlle Valbrune-Desplechin
Cast: Pablo Pauly, Romain Eck, Hafsia Herzi, Harald Marlot, Mathias Jamain Houngnikpo, Holy Fatma, Calypso Baquey, Jean-Marie Gouëlou
Producer: Nelson Ghrénassia
Cinematographer: Vadim Alsayed
Genre: Feature
Length: 103min
Year: 2022
Dialogue: French
Subtitles: English
Region: France
Production Company: Yukunkun Productions
故事梗概 Synopsis
29岁的巴普蒂斯特正处于甜蜜的恋爱中,这时他第一次遇见了曲奇昆蒂,一位来自巴黎的变装皇后。巴普蒂斯特旋即被曲奇迷住,并决定拍摄曲奇,借此他得以深入这个变装世界,并最终爱上了昆蒂,这个在变装皇后背后的男人。
29-years-old Baptiste is in a relationship with Samia when he first meets Cookie Kunty, a young drag queen from the Parisian scene who immediately mesmerises him. Initially motivated by the idea of a photography project revolving around Cookie, he immerses himself into this world, eventually embarking upon a relationship with Quentin, the young man behind the drag queen.
导演介绍 Director Biography
弗洛伦特·古埃卢毕业于(法国)国家戏剧艺术中心,并在巴黎第三大学获得电影学硕士学位。在当过几次演员和制片助理之后,2013年他进入法国国家音像高等学校导演系学习。他的毕业作品《男人,吾子》探索了变装世界,获得了2018年法国克莱蒙费朗国际短片电影节的表演类奖项。随后他又执导了《美丽男孩》(2019)、《初次之爱》(2020)和《那声音去了何处?》(2020)三部短片,均由Yukunkun Productions制作,并在电影节上获得多个奖项。
到了夜晚,弗洛伦特摇身变成雅韦尔·哈比比,一位光芒四射、坚持自我的变装皇后,他每月都会在巴黎Flèche d'Or的舞台上表演。对他来说,变装不仅仅是一种娱乐,也是挑起社会议题讨论、向电影表达爱意的机会。《一周三夜情》是他的首部剧情长片。
A graduate of the Comédie de Saint-Etienne, with a Master's degree in Cinema from La Sorbonne Nouvelle, Florent Gouëlou, after several experiences as an actor and production assistant, joined the direction department of La Fémis in 2013. With his graduation film, A Man My Son, he discovered the world of drag and won the performance award at the Clermont-Ferrand festival in 2018. Three multi-awarded short films will follow, all produced by Yukunkun productions (Beauty Boys in 2019, Premier Amour and Où vont les sons? in 2020). Florent Gouëlou is also Javel Habibi at night, a solar and committed drag queen, who performs every month on the Flèche d'Or stage in Paris. Behind the entertainment, it is an opportunity for him to stir up political issues and transmit his love for cinema. Three nights a week is his first feature film.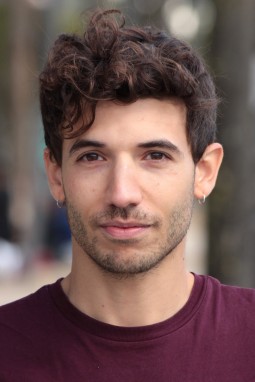 导演阐述 Director Statement