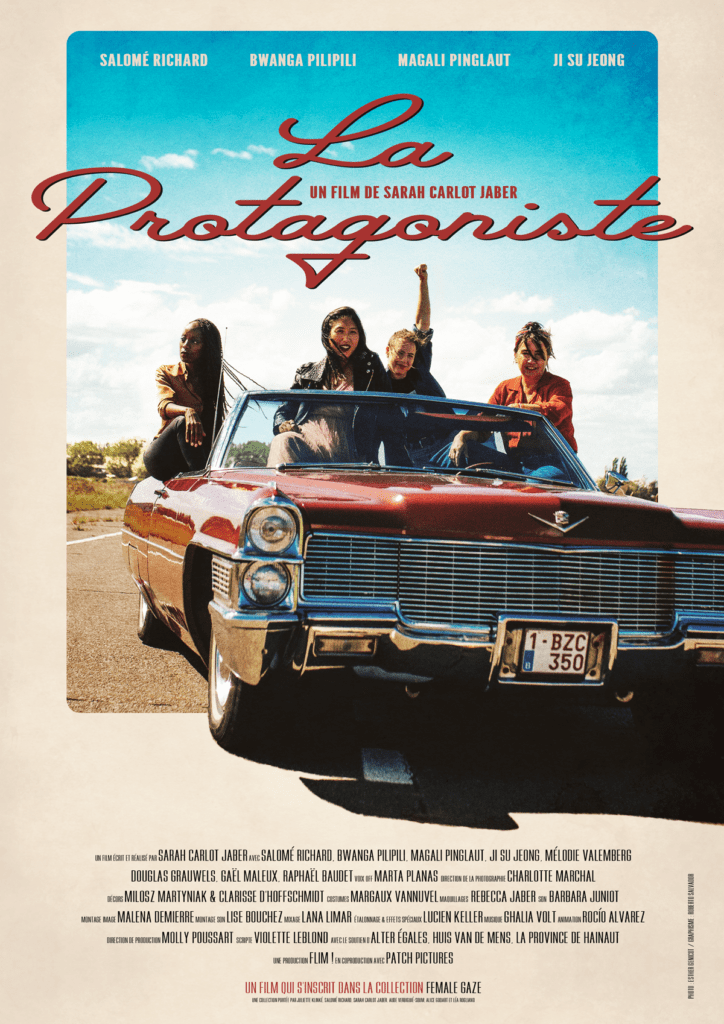 导演:莎拉·卡洛特·贾伯
编剧:莎拉·卡洛特·贾伯
主演:莎乐美·理查德、比旺加·皮历皮历、郑纪苏、马加里·平乐、梅洛蒂·瓦伦伯格、玛塔·普拉纳斯、道格拉斯·格劳威尔、盖尔·马勒克斯
制片人:莎拉·卡洛特·贾伯
摄影:夏洛特·马查尔
类型:剧情短片
时长:14分
完成时间:2021
对白语言:法语、英语
字幕:英语
地区:比利时
制片公司:电影!制片公司
Director: Sarah Carlot Jaber
Screenwriter: Sarah Carlot Jaber
Cast: Salomé Richard, Bwanga Pilipili, Ji-Su Jeong, Magali Pinglaut, Mélodie Valemberg, Marta Planas, Douglas Grauwels, Gaël Maleux
Producer: Sarah Carlot Jaber
Cinematographer: Charlotte Marchal
Genre: Narrative Short
Length: 14min
Year: 2021
Dialogue: French, Spanish
Subtitles: English
Region: Belgium
Production Company: Flim!
故事梗概 Synopsis
故事的"主角"出现在阴郁的丛林里,周遭是稀疏的人烟,这是她最为熟悉的地方。但是今天,她受够了!作为一位母亲,一位秘书,一个爱人,一个保姆,一个婴儿奶瓶,一个男性角色旁的附属品,我们亲爱的"主角"不再满足于这些标签。作为一名女性角色,她在达到出场时间上限的那一刻关掉了麦克风,和她的"配音演员"朋友一同逃离了片场,开启了一段充满欢笑的新征程。
The Protagonist, by her given name, is presented to us in her natural environment: a jungle, sadly, often lacking in density. But today enough is enough! Being the mother, the secretary, the lover, the nanny, the baby bottle, the side piece of the main male character is no longer enough for our dear Protagonist! Put on "mute" after the allocated time for female characters in a film were reached, she runs away with her friend Voice-Over for a new journey with plenty of humor.
导演介绍 Director Biography
莎拉·卡洛特·贾伯是一名编剧、导演,她在中东长大,现在在比利时工作。她毕业于比利时艺术传播学院,硕士阶段主修性别研究,尤其喜欢两个领域碰撞时创造的故事。和其他五名来自Elles Font des Films的电影人一起,他们制作了一系列剧情短片,并命名为"女性凝视"系列。作为《她才是主角》的编导,莎拉希望通过这部短片探讨女性角色在影视中的形象。
Writer and director Sarah Carlot Jaber grew up in the Middle East and today works in Brussels. As an Institut des Arts de Diffusion graduate and a holder of a master degree in Gender Studies, she is particularly interested in themes that meet those two disciplines. With five other film makers, members of the Elles Font des Films collective, they have created a series of short films: the Female Gaze Collection. Sarah wrote and directed She's The Protagonist, a "meta" comedy that questions the representations of female characters in Cinema.
导演阐述 Director Statement
她在驾驶她的车。
她在推动故事的发展。
她才是主角!
让我们在这部短片里看到女性角色的力量!她正在驾驶她的车,她正在书写自己的故事!请系好安全带——这趟旅途将会非常颠簸。
She's driving the Car.
She's leading the Story.
She's The Protagonist!
Let's talk about female characters in this short western! Driving the car, they are driving the Story! Fasten your seatbelts—it is going to be a bumpy road-trip!