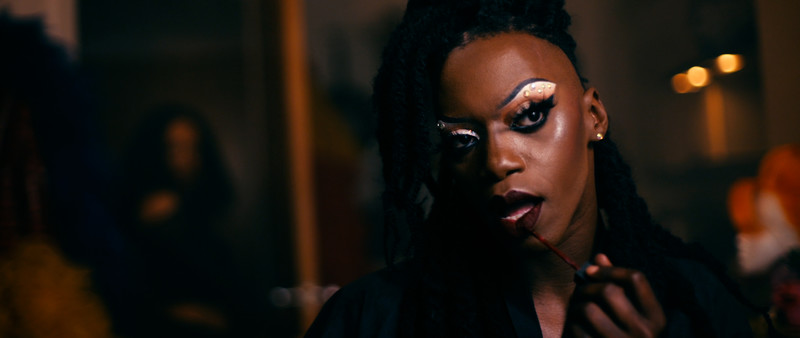 导演:马修·贝克特
编剧:亚当·卡佛、贾伊·安德鲁·格斯特
主演:布莱克·佩帕、昌达·约翰、乔伊·泰勒、西蒙妮·门德斯
制片人:马修·克里奇菲尔德、安娜·克里夫德
摄影:马修·贝克特
类型:剧情短片
时长:8分
完成时间:2021
对白语言:英语
字幕:英语
地区:英国
制片公司:动态舞蹈集体、River Rea电影
Director: Mathew Beckett
Screenwriter: Adam Carver, Jaii Andrew Guest
Cast: Black Peppa, Chanda John, Joey Taylor, Simone Mendez
Producer: Matthew Critchfield, Anna Clifford
Cinematographer: Mathew Beckett
Genre: Short film
Length: 8min
Year: 2021
Dialogue: English
Subtitles: English
Region: UK
Production Company: Motion Dance Collective in association with River Rea Film
故事梗概 Synopsis
《舞池无处不在》是编舞师杰森·格斯特和变装艺术家/制作人法特·布彻的最新合作。
通过庆祝伯明翰LGBTQ+夜生活社区的创造力、复原力和大胆精神,这个新作品是一次对我们城市的邀请,何时何地,你都能创造自己的舞池!
'Anywhere is a Dancefloor' is a new collaboration between choreographer Jason Guest and drag artist & cultural producer Fatt Butcher.
Through celebrating the creativity, resilience, and fierce spirit of Birmingham's LGBTQ+ nightlife community, this new work is an invitation to the city to create their own dancefloors anywhere and everywhere!
导演介绍 Director Biography
马修·贝克特,导演、摄影指导、声音艺术家以及创意倡导者,拍摄多部作品。他在美国和英国等地工作,作为当今左翼艺术创作潮流中的一份子,他的作品更加关注技术,并且采用令人兴奋的形式,经常将电影、音乐和其他艺术联系起来。他也是电影制作公司River Rea Films的创始人。
Mathew Beckett is a Director, film maker, DoP, sound artist and creative advocate with broadcast and feature film credits. Working from the US to the UK and around the world, he has a technically focused and exciting approach to more left-field artistic creative activity that often links film, music and other art forms. He is the owner of the film production company 'River Rea Films'.
导演阐述 Director Statement