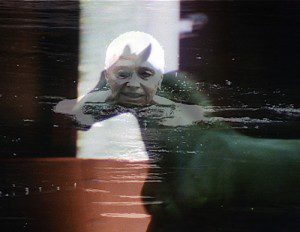 马非隐喻A Horse Is Not A Metaphor
2009,30mins
2009年柏林国际电影节泰迪熊奖Teddy Award Berlinale 2009
故事梗概:
光线打在一包毒药上,如何让它反射出美丽?
化学制品的恐怖意味,怎样将之转化为希望?
在与卵巢癌斗争的同时,拍摄者再次回归她的本源——纪录片与实验性,用光线与运动的影像将化疗过程记录在一部多层次电影中,记录了她远离病床的过程。
与其说汉默是一个癌症幸存者,不如说癌症让她的生命更加绽放。她从疾病中恢复,在马背上跨越奥基夫在新墨西哥州的幽灵牧场中的红丘,穿过怀俄明州大霍恩那铺满青草的山麓,在纽约伍德斯托克积满落叶的小径中信步由缰。
Synopsis
How can the filmmaker make beauty from light reflected in a bag of poison?
How can she embrace the horrors of chemicals and transform them into hope?
The filmmaker, fighting ovarian cancer, returns to her documentary and experimental roots, in a multilayered film of chemotherapy sessions with images of light and movement that take her far from the hospital bed.
As a 'cancer thriver' rather than 'survivor',  Hammer changes illness into recovery riding over the red hills of Georgia O'Keefe's Ghost Ranch in New Mexico,  the grassy foothills of the Big Horn in Wyoming, and the leafy  paths in Woodstock, New York.