沄沄
When the Tide Rises
导演|姜智佳
编剧|姜智佳
主演|魏君帆、静芳、陈诺潼
制片人|王钰媛
摄影|邱涛
类型|剧情短片
时长|23分钟
完成时间|2021
对白语言|中文
字幕|中英
地区|中国
制片公司|独立制片
故事梗概
2002年的中国,同性恋刚从精神疾病范畴中去除,然而对于许多人而言,这仍是一个讳莫如深的议题。同性恋人们多数依旧生活在边缘化的阴影中,以爱意去抵抗或熟悉或陌生的猎奇窥视。
在这样传统与现代杂糅并进的一年,身为同性恋人的顾半夏与郑绥安从孤儿院中收养了10岁的女孩小艾。
然而,面对世俗眼光与观念传统的父母的强硬反对,顾半夏内心备受煎熬,她开始重新思考家庭与收养之于她的意义。然而顾半夏内心的纠葛,同样为郑绥安与小艾带来了不安。
在故事的最后,虽然困难依旧横亘于眼前,但她们在亲情和爱情中寻得了自我的和解,一同去渡过人生的这条茫茫长河。
导演介绍
目前就读于南加州大学的电影学院,专业为电影与电视制作专业,辅修艺术史。在洛杉矶生活的四年间,逐渐对性别叙事产生极大的兴趣,并不断寻求探索以亚裔为主体的多元性故事。
在校期间创作过多部作业短片,其中包括剧情短片《Homeland》及《In Spring We Part》等。 《沄沄》是首部独立制作的剧情短片。目前正担任剧情短片《Anti-Venom for a Snake》的制片人,以及纪录短片《Healing in Color》的制片人。
导演阐述
《沄沄》描绘了一对女同情侣以及她们收养的孩子之间细腻而日常的情感,讲述了在社会大环境下对自我认同的疑惑与抗拒,以及在私人语境中对爱与生命的坦诚与热望。
在1999年开始实行的《收养法》中,收养人必须年满30周岁,而同性恋人是无法以家庭的形式收养孩子的。1997年,流氓罪从《刑法》中删除,标志着中国大陆同性恋的合法化。2001年,同性恋从第三版中国精神病分类目录(CCMD-3)中删除,被视为中国大陆同性恋的去病理化。千禧年前后的中国,同性之间的恋情依旧被视为一种社会禁忌,而对于30岁的同志女性来说,婚姻、家庭与母亲身份是生活中难以绕开的命题,如何在大环境下保持自己的自主选择与自我尊重,则是这些命题最终指向的疑问。
中国乃至亚洲电影在女同志人群的刻画上有着极大的空白,因此在一个女性越来越渴望被听见、被看见的时代,我希望籍此片展现她们在家庭这一人文主题下,休戚与共的悲欢情感。
与此同时,我亦想以这部影片致敬所有出现在我生命中的女性们,是她们向我展露出的刚强、智性与宽容,让我成为今日的自己。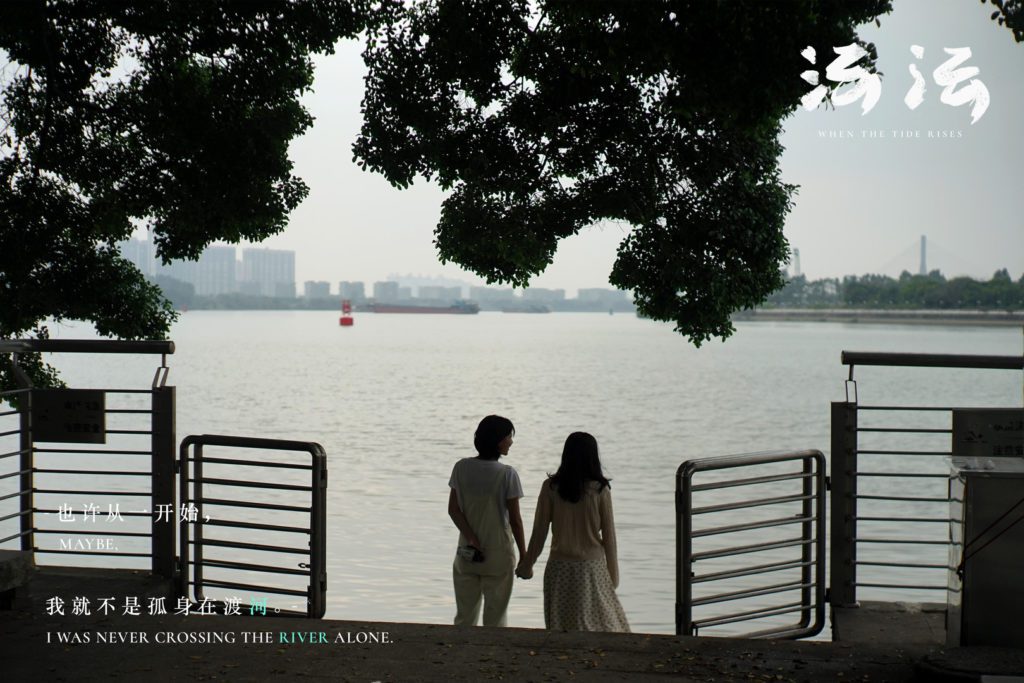 Director|Alex Jiang
Screenwriter|Alex Jiang
Cast|Junfan Wei, Jing Fang, Nuotong Chen
Producer|Sophie Wang
Cinematographer|Kio Qiu
Genre|Featured Short Film
Length|23min
Year|2021
Dialogue|Chinese
Subtitles|Chinese, English
Region|China
Production Company|Independently Produced
Synopsis
When homosexuality was depathologized in China in 2002, it still remained a taboo for the most. Homosexual lovers lived in the shadow of marginalization, defending their silent love against the prying gazes.
It is also in this year that Xia Gu and Amber Zheng, two lesbian lovers, choose to adopt the 10-year-old Ellie from the orphanage.
Yet facing the strong opposition from her traditional parents, Xia is torn in halves and forced to rethink what a family truly means to her. At the same time, her self-doubt also stirs up insecurities inside Amber and Ellie. When she decides to return to hometown to take care of her suicidal mother, the tension in this newly formed family mounts up once again…
Director Biography
Currently a Bachelor of Fine Arts at University of Southern California, School of Cinematic Arts, majoring in Film & Television Production and minoring in Art History. During my 4 years in Los Angeles, I started to grow interest in a gendered narrative and have kept exploring diverse stories featuring Asian characters.
In USC, I've created multiple curriculum-based short projects, including Homeland and In Spring We Part. However, When the Tide Rises is my first independent film project outside of school. I am also currently producing an independent short film titled Anti-Venom for a Snake, which is currently in the post-production stage in Los Angeles, and a documentary short film titled Healing in Color.
Director's Statement
When the Tide Rises depicts the nuanced emotions between a lesbian couple and the child they adopt. Yet the film is much more than that. It also discusses what it takes to accept and embrace one's own identity under a hostile societal environment and explores the desire for love and family in a private, intimate sphere.
The story began to take shape during my research of the 1999 Adoption Law of mainland China. It stated that the adopter must be over 30 years old, and that a homosexual couple could not legally conduct the act of adoption as a family unit. And the millennium marked a turning point for the homosexual community in China, as homosexuality was decriminalized in 1997 and depathologized in 2001. Yet it still remained a taboo in the society. For a 30-year-old lesbian, marriage, family, and identity are topics which are difficult to escape. How to maintain her own independent choice and self-respect in the general environment is the question that these topics ultimately point to.
Chinese films have always suffered from the absence of lesbian representations, and in an age where more and more women are longing to be seen and heard, I want to dedicate this film to all the females in my life. It was the vigor, wisdom, and adamancy that they represent truly shaped who I am today.