气味记忆
The Scent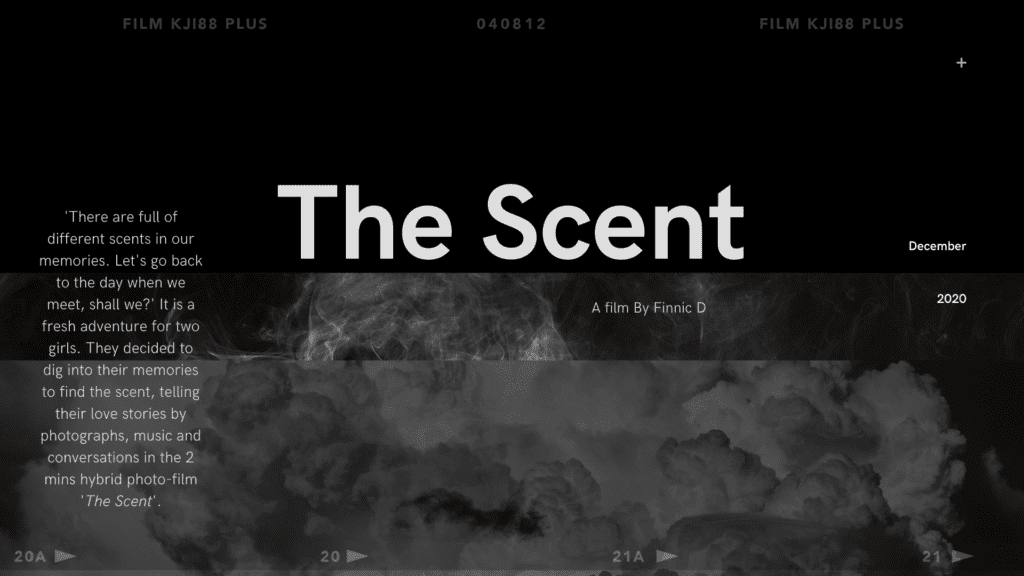 导演|菲泥
编剧|菲泥
主演| 菲泥、莉莉安
制片人|菲泥
摄影|菲泥
类型|实验电影
时长|2分钟
完成时间|2020
对白语言|汉语普通话
字幕|英语、汉语普通话
地区|澳大利亚
制片公司|None
故事梗概
"我们的记忆中充满了不同的味道。让我们回到第一次见面的那一天,好吗?"对于两位女孩来说,这是一次新鲜的冒险。她们决定深入记忆,寻找那些气味。通过照片、音乐和对话在这个时长两分钟的混合了图片与影像的风格之作中讲述她们的爱情故事。
导演介绍
菲泥目前在墨尔本皇家理工大学进行最后一年的攻读。她坚定致力于娱乐与艺术领域。作为一名个体摄影师、剪辑师和Vector Studio (2019)的联合创始人。菲泥的灵感来自于Hip-Hop(嘻哈)、Drag Queens(变装皇后)和LGBTQ等亚文化流派。从小,因为观看了王家卫的各种电影,她被引入了视觉艺术制作这一神奇世界,并从那时起就致力于成为一名创造性满满的电影制作人。
导演阐述
这部电影其实是关于讲故事和气味记忆的。我和Lillian从未对朋友或家人说过有关我们的事情。有时我甚至觉得我们仿佛生活在一座与世隔绝的小岛上。在我们在一起的这段时间里发生了很多事情。也许现在是我们回想种种回忆的最佳时机。
Director|FinnicDong
Screenwriter|FinnicDong
Cast|Finnic, Lillian
Producer|Finnic Dong
Cinematographer|Finnic Dong
Genre|Experimental film
Length|2min
Year|2020
Dialogue|Chinese
Subtitles|English, Chinese
Region|Australia
Production Company|None
Synopsis
"There are full of different scents in our memories. Shall we go back to the day when we first met?" It is a fresh adventure for two girls. They decide to dig into their memories to find the scent, telling their love stories through photographs, music, and conversations in the 2 mins hybrid photo-film 'The Scent'.
Director Biography
Finnic is currently enrolled as a final year student at RMIT University and has a deep commitment to entertainment and the arts. As a self-employed videographer and editor, co-founder of Vector Studio in 2019. Finnic is inspired by sub-culture genres such as Hip-Hop, Drag Queens and LGBTQ. She was introduced to the magical world of visual art production by watching a variety of Wong Kar-Wai's films growing up and has been working towards a creative filmmaker ever since.
Director's Statement
The film actually is about storytelling and scent memories. We've never spoken to friends or family about us. Sometimes I feel like we are living on an isolated island. A lot has happened during the time we've been together. Maybe now is the best time to relive our memories.