日子
Days
导演|蔡明亮
编剧|蔡明亮
主演|李康生、亚侬弘尚希
制片人|王云霖
摄影|张钟元
类型|剧情
时长|127分钟
完成时间|2020
对白语言|无对白
字幕|无
地区|中国台湾
制片公司|汯呄霖电影有限公司
故事梗概
小康身体承受病痛与治疗之苦
并且漂泊
他在异地遇见了Non
给了些慰藉
但又分开
各自过日子
导演介绍
蔡明亮
1957年出生于马来西亚,1992年处女作《青少年哪咤》在柏林亮相,一鸣惊人;1994年以《爱情万岁》获得威尼斯金狮奖,奠定世界影坛地位;1996年《河流》获得柏林评审团大奖,生涯11部剧情长片皆入选三大影展,更连续五次获得费比西奖;2009年作品《脸》成为罗浮宫首度典藏电影,创下艺术电影的标竿与典范。
近年亦受到美术界重视,获邀参与艺术展演与跨界创作,提出「手工电影」与「去工业化创作」等美学理念,2012年展开「慢走长征」影像创作计划,至今已完成八部作品,受邀世界重要艺术节与美术馆展映;以台湾为据点,积极推动「美术馆院线」与「作者的观看方式」,开创新的观影经验,与过度商业化的电影市场体系抗衡。
他是当代最肉欲、最敏感、最阴暗的电影作者。他把身体当成是一个神秘的、具可塑性的、怪异的、粗俗的机器,藉由作品将身体的官能赤裸地呈现出来。他的电影不讲故事,不爱说话,缓慢且长时间的单一镜头,呈现人的不自主、人的渴望、人的空虚,人的寂寞。他的镜头长期凝视李康生,也就是在凝视着人生。
导演阐述
《郊游》之后 我没有再写剧本
却没有停下来
我用几年的时间
以小康慢走的概念
完成了八部影片
而现实生活中的小康
同时经历一场莫名的病
生病的模样
令人不敢正视
因为病得太久
有时我就拍下来
拍来做什么也不知道
三年前
我在曼谷遇见了一位寮国外劳
透过视讯
看见他在简陋的房间里
煮他的家乡菜
我忍不住飞去拍他
就这样
开始了我的另一部电影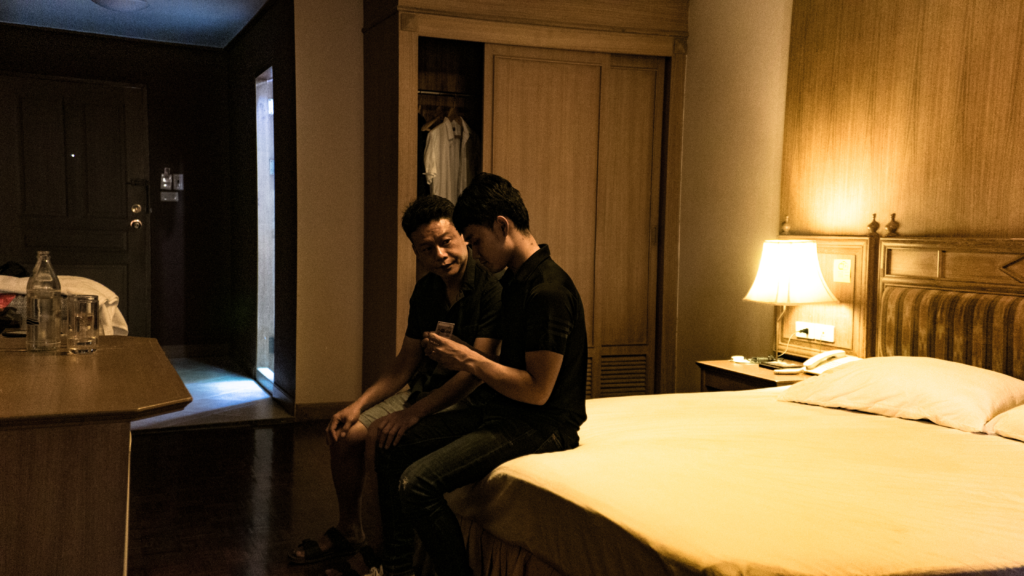 Director|Tsai Ming-liang
Screenwriter|Tsai Ming-liang
Cast|Lee Kang-sheng, Anong Houngheuangsy
Producer|Claude Wang
Cinematographer|Chang Jhong-yuan
Genre|Feature
Length|127min
Year|2020
Dialogue|No Dialogue
Subtitles|None
Region|Taiwan, China
Production Company|Homegreen Films
Synopsis
Under the pain of illness and treatment,
Kang finds himself living the life of a drifter.
He meets Non in a foreign land.
They find consolation in each other
before parting ways and
carrying on with their days.
Director Biography
Tsai Ming-Liang
Born in Malaysia in 1957, Tsai Ming-Liang premiered his debut feature, Rebels of the Neon God, at the Berlinale in 1992. His sophomore film, Vive L' amour (1994), won the Golden Lion award at the Venice Film Festival while The River (1996) won the Jury Award at Berlin, thus solidifying his status as a major filmmaker. All of his feature films so far have been selected by the top three film festivals of the world while five of them have won the FRIPESCI Award. In 2009, Face became the first film to be included in the collection of the Louvre Museum's "Le Louvre s'offre aux cineastes".
In recent years, Tsai has also received attention in the art world, having been invited to participate in various art exhibitions and festivals, and for putting forth such aesthetic ideas as the "Hand-sculpted Cinema" and "The removal of industrial processes from art making". In 2012, he began his "Slow Walk" series and has since completed eight short films, screened at art festivals and galleries around the world. Back in Taiwan, he actively promoted the concept of vely promoted the concept of theoted the concept of the Art Museum as Cinemagalleries in the world.on the FRIPESCI Award. ly"Art Museum as Cinema" and "The Author's Intended Way of Viewing", introducing new film-watching modes as a way to balance the overly commercialized film market.
Tsai is the most sensual, sensitive and sombre filmmaker of this generation. He sees the human body as a mysterious, malleable and vulgar machine, and seeks to strip naked the sensory functions of the human body through his work. His films often absent of narrative and dialogue and composed of slow and long takes, present life in its truest form, showing us the helplessness of humans, their desire, emptiness and loneliness. His lens, long fixated on Lee Kang-sheng, is in fact, fixated on life itself.
Director's Statement
After Stray Dogs, I stopped developing scripts.
However, I never stopped making films.
Within a few years,
I've made eight films
based on the concept of Kang's slow walking.
Meanwhile, in real life,
Kang suffered an strange physical illness.
It pained me to see his frail appearance.
Because his infirmity continued for so long,
I sometimes filmed it.
Though I didn't know how I'd use the footage.
Three years ago, I met a Laotian worker in Bangkok.
Via our video chat,
I saw him cooking his hometown foods
in his rather shabby room.
I felt compelled to fly over and film him.
And just like that,
I began making another film.