无政府主义
Anarkia
导演|塞缪尔·卡萨雷斯
编剧|塞缪尔·卡萨雷斯
主演|加布里埃拉·帕拉西奥、娜塔莉亚·佩兹、安东尼奥·尼诺
制片人|塞缪尔·卡萨雷斯
摄影|克里斯蒂安·鲁伊兹
类型|剧情短片
时长|20分钟
完成时间|2020年
对白语言|西班牙语
字幕|英文
地区|哥伦比亚
制片公司|德拉科电影工作室
故事梗概
安东尼娅是一个不成功的老朋克歌手,父亲去世后,她从母亲那里偷钱来偿还朋克音乐比赛的债务,她组起了乐队,一个鼓手和她最好的朋友费尔南达一起参加了比赛。
导演介绍
塞缪尔·卡萨雷斯出生在哥伦比亚波哥大市。十五岁时,他从波哥大的学校毕业。之后他在豪尔赫·塔迪奥·洛萨诺大学学习导演、电影和电视制作。他参加了几个电影工作坊,包括与电影导演若昂·佩德罗·罗德里格斯合作的《变形艺术》。
除了大学项目,他还与丹尼尔·维拉克斯合作,为其纪录片《在河边》担任剪辑师,并为其电视连续剧预告片《卡林菲诺》担任摄影师。
2018年,塞缪尔创办了西弗勒斯电影工作室,并执导了他的首部短片《猥亵》。
导演阐述
《阿纳基娅》的诞生是为了能够引发对青年、友谊和爱情话题的反思,这是朋克文化中的矛盾、悖论和冲突所蕴含的普世价值,是一种音乐、文化、社会和政治运动,通过艺术、反叛、社会动荡和无政府主义呼吁逾规/颠覆。这部短片叙述了在个人悲剧中普遍存在的主题,如主人公的悲剧,并讲述了一个特定的背景,同时揭露了一个城市,如哥伦比亚的朋克场景。出于这个原因,我们的动机是能够从中提出关于人类现状的问题,其中朋克是我们的基础和画布,重新思考我们作为一个社会,无论是在一个破旧的社会结构的运作中,如当代的社会结构,还是在哥伦比亚这样的国家中侵蚀腐败、暴力和有罪不罚的政治机器,以及超越全球的框架。
虽然这部短片呈现了粗糙的主题,但它忠于这个音乐场景所代表的内容,它本质上不是糖衣炮弹,相反,它通过苛刻的方式呈现了反霸权的提议。因此,这部电影是一种反抗行为,它发酵成一种游击式电影,以证明生活也可以从艺术的边缘涌现。它是一种不完美的电影,但更自由。
在《阿纳基娅》中,一个女孩将经历关于家庭、性和社会冲突的内在旅程,以达到她对环境和她自己的哀悼的宣泄。历史向我们展示了一个在个人危机、暴力和腐败的问题背景下出现的人性的宇宙。生活在这样的环境中,忍受它并努力成为一个艺术家,就是一种反叛的行为。
对历史的讨论向我们反映了一个人,当她走到了人性最脆弱的极限,并找到了一种方法来救赎自己,因为她曾处于最黑暗的深渊,为此,这部短片试图为像阿纳基娅这样的隐形人发声,她们在音乐、艺术和朋友中找到了改变自己和重新审视自己的机会。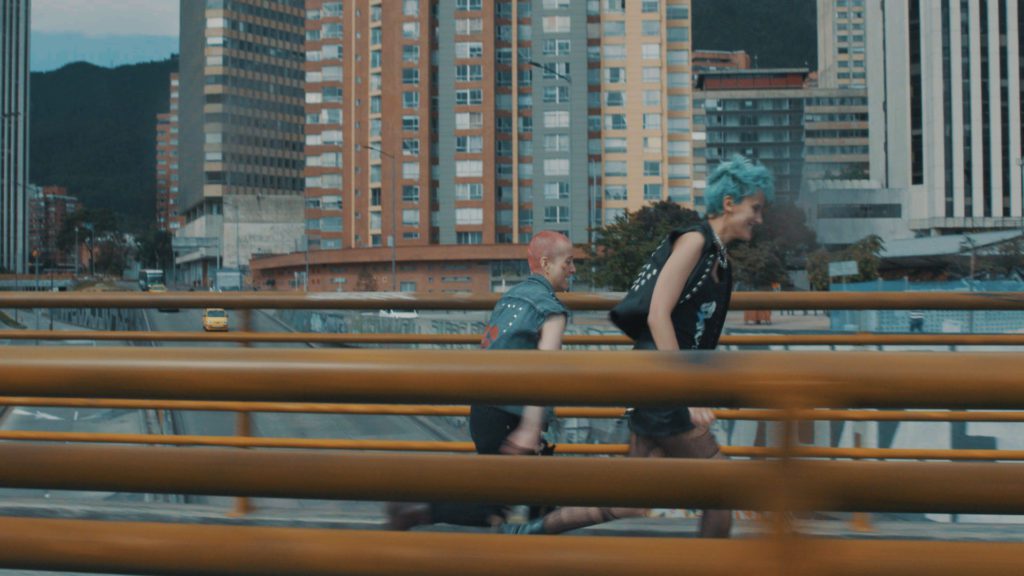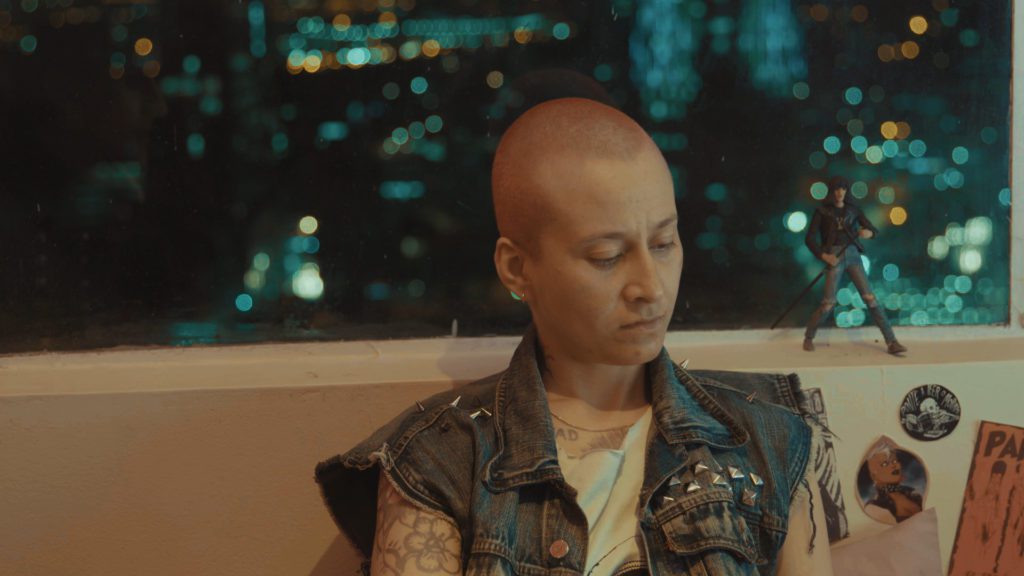 Director|Samuel Casallas
Screenwriter|Samuel Casallas
Cast|Gabriela Palacio, Natalia Páez, Antonio Niño
Producer|Samuel Casallas, Nicolas Casanova
Cinematographer|Cristhian Ruiz
Genre|Featured Short Film
Length|20min
Year|2020
Dialogue|Spanish
Subtitles|English
Region|Colombia
Production Company|Drako Films
Synopsis
After her father's death, Antonia, an unsuccessful old punk singer, steals money from her mother to pay off the debt of a punk battle music contest where she participates together with her band made up of a drummer and Fernanda, her best friend.
Director Biography
Samuel was born in the city of Bogotá. At the age of fifteen he graduated from school in Bogotá. Afterwards he studied direction, film and televisión production at the Jorge Tadeo Lozano University. He courses several film workshops including "The art of Metamorphosis" with the filmmaker Joao Pedro Rodríguez.
Besides the university projects, he has worked with Daniel Velázquez as an editor in his documentary "On the Edge of the River" and cinematographer for his tv serie teaser "Calinfierno".
In 2018, creates the film production company Severus Films and directs his debut short film "Stuprum".
Director's Statement
Anarkia was born with the motivation of being able to provoke a reflection on youth, friendship and love, universal values within the contradictions, paradoxes and conflicts of punk, a musical, cultural and social and political movement that appeals to transgression-subversion through of art, rebellion, social unrest and anarchism. The short narrates universal themes represented in individual tragedies such as that of the protagonist and at the same time exposes a city and speaks of a specific context such as the Colombian Punk scene. For this reason, our motivation is to be able to raise questions about the human condition where punk is our base and our canvas in order to rethink ourselves as a society, both in the functioning of a worn out social fabric, such as the contemporary one, and the political apparatus that eats away at corruption, violence and impunity to countries like Colombia and that transcends a global framework.
Although the short film presents crude themes, it does so with fidelity to what this musical scene represents, which is intrinsically not syrupy but on the contrary presents counter-hegemonic proposals through harshness. Therefore, the film is an act of resistance that was fermented as guerrilla cinema to demonstrate that life can also spring from the fringes of art. It is an imperfect cinema but freer.
In Anarkia a girl will go through an internal journey with domestic, sexual and social conflicts to reach the catharsis of mourning against her environment and against herself. History shows us a universe with characters that have emerged in a problematic context, of personal crisis, violence and corruption. Living in the midst of this, enduring it and trying to be an artist despite everything, becomes an act of rebellion.
The discourse of history reflects us to a person who goes to the extreme limit of his human fragility and finds a way to redeem himself having been in the darkest abyss of his being, for this reason the short film seeks to give voice to that range of invisible people like Antonia, individuals who find in music, art and friends their opportunity for change and to rethink themselves.