孑然一身
Alone Out Here
导演|卢克·康尼什
编剧|卢克·康尼什
主演|乔恩·赖特
制片人|菲利普·布斯菲尔德,米克·艾略特
摄影|卢克·康尼什
类型|纪录短片
时长|23分钟
完成时间|2020年
对白语言|英语
字幕|英语
地区|澳大利亚
制片公司|饼干盒电影公司
故事梗概
农民乔恩·赖特是一名男同性恋。在一场灾难性气候变化中,他面临了两难的境地。22年来,他一直致力于改变他的牛群的基因,可这与牛肉行业的态度是矛盾的。通过他的丧失和生存之旅,我们知道要做真实的自己,必须不惜一切代价。
导演介绍
卢克·科尼什是一名纪录片制作人,曾多次获奖,在电影制作中走出了一条充满情感的道路。他的第一部短片《孑然一身》曾被《纽约客》选中,大获成功。之后,他又继续为亚马逊金牌服务撰写、制作、导演和编辑一部六集纪录片,最近还完成了他的首部专题纪录片《继续走》(Keep Stepping)。
导演阐述
我认为自己是一个酷儿纪录片的制作人。我总是会被那些反映我亲身经历的题材吸引。关于如何讲故事,我的本能做法是,用情感为主导的叙事来讲述诚实、复杂、非同寻常的故事。
《孑然一身》是一个充满希望的故事,其背景设于气候危机中贫瘠的澳大利亚景观。在这个故事中,一个单身同性恋农民肩负使命,想要改变人们对他的行业和他的性取向的看法,并勇敢做自己。
在执导《孑然一身》的过程中,我花了很多时间和乔恩·赖特打电话,并用我的摄影机来追踪他的日常生活。随着我对他的了解不断深入,我意识到我们的生活有很多相似之处。我们对联系的渴望都很强烈。对乔恩来说,这样的渴望他沉浸在工作中,并推动他在对抗气候变化的斗争中取得了重大突破。同时,这也让他感到孤独,使他在自己的行业中被他人遗弃。
在拍摄电影的过程中,我很早就发现,即使是生活在农场,在家人的陪伴下长大,乔恩还是会感到孤独。对此,在一个无情的恐同环境中长大的我十分感同身受,我知道这带来的伤害。
然而,乔恩的故事之所以吸引我,不仅仅是因为我们都很孤独。我在他的渴望中看到了毁灭的力量。我看到了乔恩的危险,他的几个错误的决定很可能会导致他按下自毁按钮,毁掉他建造的一切,甚至更糟。
我之所以选择讲这个故事,是因为尽管我和乔恩的境遇不同,我们离彼此并不远。同时也是因为,我相信,乔恩的声音极可能以一种前所未有的方式,以阴谋、严肃和优雅的方式,照亮澳大利亚同性恋农民的生活。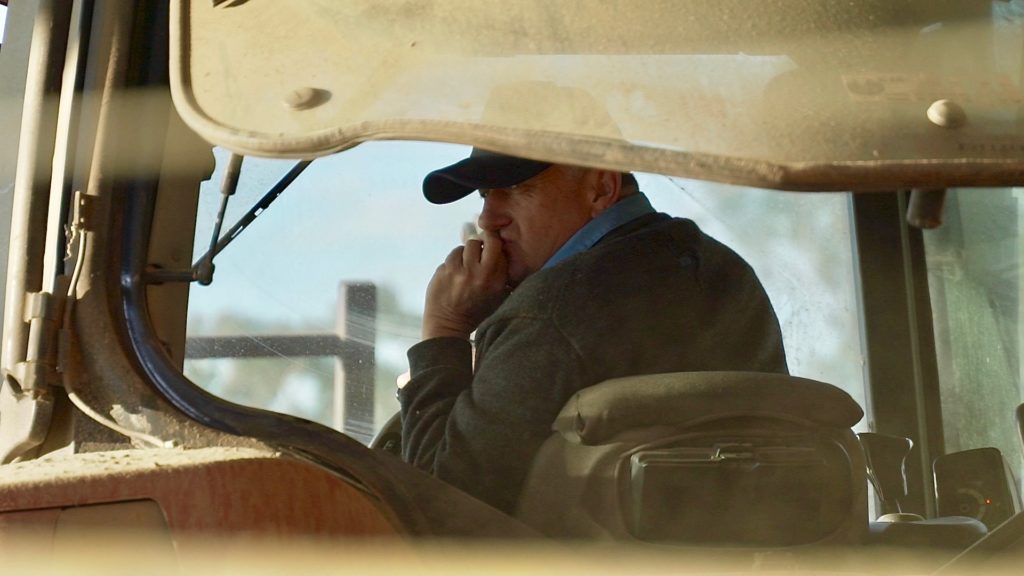 Director|Luke Cornish
Screenwriter|Luke Cornish
Cast|Jon Wright
Producer|Luke Cornish, Philip Busfield, Mick Elliott
Cinematographer|Luke Cornish
Genre|Documentary short
Length|23min
Year|2020
Dialogue|English
Subtitles|English
Region|Australia
Production Company|Biscuit Tin Productions
Synopsis
In the moment of catastrophic climate change Jon Wright, a gay farmer, is faced with a dilemma. His 22-year commitment to transform the genetics of his bull herd are pitted against the attitudes of the beef industry. Through his journey of loss and survival, we learn what it takes to be true to yourself, at any cost.
Director Biography
Multi award winning documentary maker Luke Cornish takes a deeply emotional path to film making. After the success of his first short Alone Out Here, selected by the New Yorker, he has gone on to write, produce, direct, and edit on a 6-part documentary series for Amazon Prime and has recently completed his first feature documentary Keep Stepping.
Director's Statement
I consider myself a queer documentary maker and I am drawn to subjects whose experiences reflect my own. My instinctive approach as a storyteller is to emotionally led narratives that are honest, complex and often surprising.
Alone Out Here is a story full of hope, set against a barren Australian landscape in the midst of a climate crisis. It is a story about a single, gay farmer's mission to shift perceptions around both his industry and his sexuality, and the challenges of being yourself.
During the course of directing ALONE OUT HERE, I've spent many hours on the phone with Jon Wright and following his daily routine with my camera. As I've gotten to know him, I've recognised the many ways in which our lives are similar. The yearning we both have for connection is a powerful thing. For Jon it has driven him to find distraction in his work, pushing him to the cusp of a significant breakthrough in our fight against climate change. It has also left him lonely and caused him to be something of a pariah in his industry.
I discovered early during the filmmaking process that Jon felt alone even when he was growing up on the farm, surrounded by his family. I felt the same growing up in an unforgivingly homophobic environment and I know the damage it does.
What drew me to Jon's story however isn't simply that we've both been lonely. It's the power I recognised in his longing not to be. I saw how at risk Jon was and how a few wrong turns could have resulted in him hitting the self-destruct button, destroying everything he's built, or worse.
I chose to tell this story because despite our different landscapes, Jon and I haven't landed far from each other. And, finally because I believe that Jon's voice has the potential to illuminate the life of Australia's gay farmers in a way that's never been done before, with intrigue, gravity and grace.