千言勿语
A THOUSAND WORDS UNSPOKEN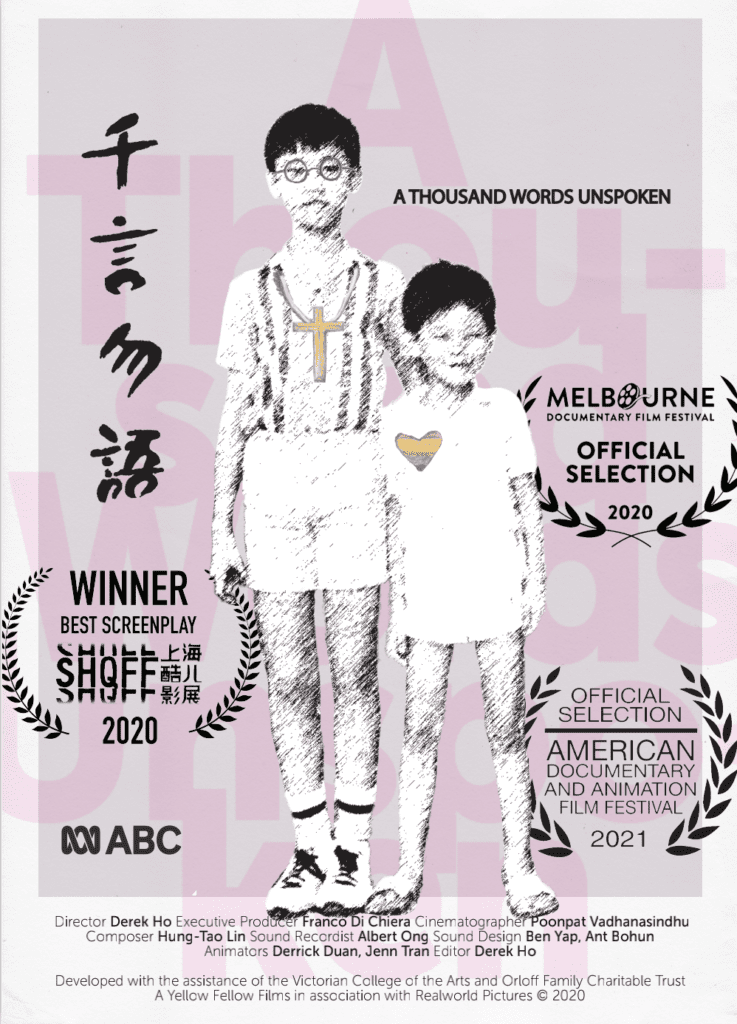 导演|德里克·胡
编剧|德里克·胡
主演|杰里迈亚·胡、德里克·胡
制片人|佛朗哥·狄·基拉、德里克·胡
摄影|蓬帕·瓦德纳辛杜
类型|纪录短片
时长|26分钟
完成时间|2020
对白语言|英语、汉语普通话、客家话
字幕|None
地区|新加坡
制片公司|黄皮肤影业
故事梗概
导演德里克·胡为了探索基督教如何影响了他哥哥杰里迈亚及其性取向回到了新加坡。故事以两人的团聚作为序幕,讲述了兄弟俩在对待各自的男同性恋身份认知上,采取的两种截然不同的方式。同时,德里克还计划透露给杰里迈亚一个埋藏了三十年之久的秘密。《千言勿语》是一幅对爱与创伤的真实写照,刻画出兄弟俩如何在信任、信仰和愈合之中徘徊。
导演介绍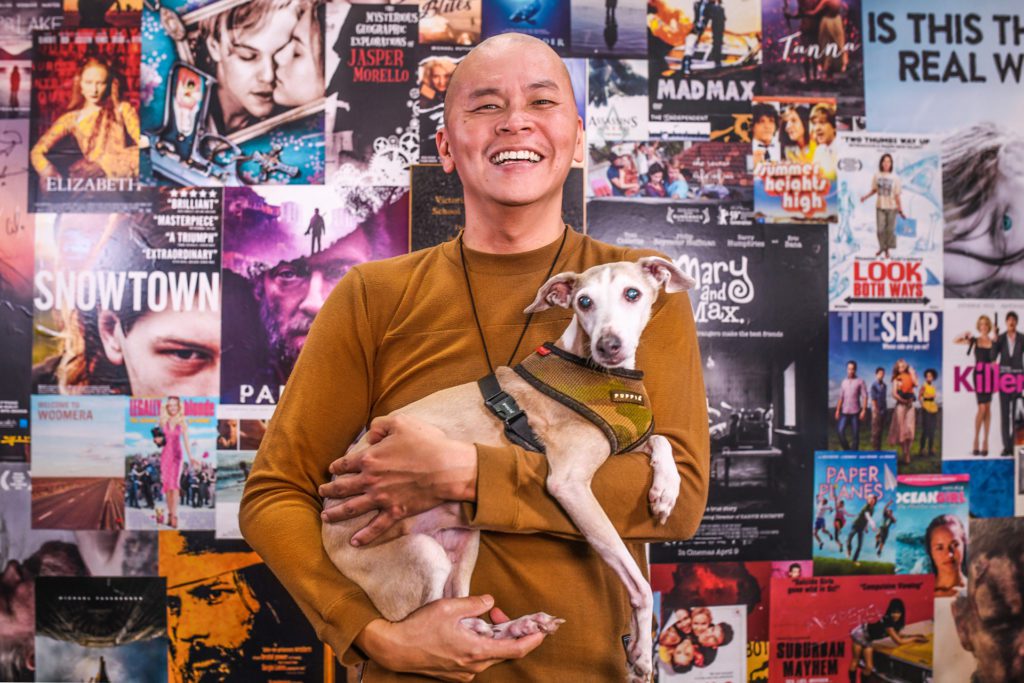 德里克是现居住于墨尔本的纪录片导演、摄影师和剪辑师。拥有维多利亚艺术学院的纪录片硕士学位。
其近期作品赢得了无数奖项,并在众多国际电影节上展出,甚至还曾登上《纽约时报》的头版。
纪录片制片人林赛·克劳斯对德里克的作品有着高度评价: "这部电影的惊人之处是它包含了我们所追求的一切:一个相关性和风险都很高的故事,同时以亲密且极富创造性的风格讲述给观众。这是一部在适合不过献给全球观众的完美的纪录短片。"
德里克热爱纪录片制作,因为它是社会的一面镜子,通过观察可以让我们思考、探讨,并承担作为社会一份子相关的责任。制作纪录片这一过程同时也能挑战着他通过镜头抛下自己原有的偏见和判断,并以此为契机更多的了解到他人与自己。
导演阐述
澳大利亚推出了《宗教歧视法案》,新加坡在《刑法典》第377A条将同性恋定为刑事犯罪,而我想要揭示性与宗教之间的冲突,以及它可能对家庭和个人造成的损害。
作为一名亚裔男同性恋者,由于我的性取向和种族身份,长久以来我都在与来自整个社会和同性恋群体的歧视作斗争,有很长一段时间这让我与自我接纳愈行愈远。我也常常思考我哥哥作为男同性恋者不断恶化的生活、他最近对自己性取向的谴责,以及这在多大程度上与我带给他的创伤性出柜经历有关。
我深知过去发生的一切都无法逆转。制作这部电影是我摆脱内疚和原谅自己的第一步,同时努力与我的家人,尤其是我的哥哥和解和互相接纳的第一步。我讲这个非常私人的故事是为了治愈和解脱。我也希望那些曾经怀疑自己的价值和存在的人能从我的故事中找到些许力量。
Director|Derek Ho
Screenwriter|Derek Ho
Cast|Jeremiah Ho, Derek Ho
Producer|Franco Di Chiera, Derek Ho
Cinematographer|Poonpat Don Vadhanasindhu
Genre|Short Documentary
Length|26min
Year|2020
Dialogue|English, Chinese, Hakka
Subtitles|
Region|Singapore
Production Company|Yellow Fellow Films
Synopsis
Filmmaker Derek Ho travels back to Singapore to explore how the adoption of Christianity has changed his brother Jeremiah and his sexuality. It unpacks the reunion of the two brothers who took radically different paths in coming to terms with their sexual identities as gay men. Derek also intends to reveal to Jeremiah a secret that has been buried for the last thirty years. A Thousand Words Unspoken is a portrait of love and trauma, where two brothers find themselves navigating the space between trust, faith and healing.
Director Biography
Derek is a Melbourne based documentary director, cameraperson and editor with a master degree in documentary from the Victoria College of The Arts.
Derek's recent work has won numerous awards and has been showcased at numerous international film festivals, and even made it to the front page of New York Times.
Series Producer Lindsay Crouse speaks highly of Derek's work: "The film is a breathtaking combination of exactly what we're looking for: a relevant and high-stakes story, intimately told, with a creative stylistic approach. It was a perfect short documentary to present to our global audience."
Derek loves documentary filmmaking because it holds a mirror up to society and makes us ponder, converse and be held accountable as a collective. It is also through this process of making documentaries challenges him to shed the layers of judgement through his own lens and gets to learn as much about others and about himself.
Director's Statement
While Australia proposes a "Religious Discrimination Bill" and Singapore criminalises homosexuality with Penal Code 377A, I want to shine light on the conflict between sexuality and religion and the damage it can cause to families and individuals.
As a gay Asian man who has struggled with discrimination from society at large and from within the gay community due to my sexual orientation and race, it had led me to an experience that was deeply conflicted with self-acceptance for a long time. I also often wondered about the downward spiral of my brother's life as a gay man and his recent denouncement of his sexual identity, and how much of that has got to do with his traumatic coming out experience that was caused by me. I know deep down whatever happened in the past can never be reversed.
Making this film is the first step towards letting go of the guilt and to forgive myself while working towards reconciliation and acceptance with my family, especially my brother. I am telling this very personal story for healing and closure. I also hope those who have doubted their value and existence can find strength from my story.