从感觉出发
From Feeling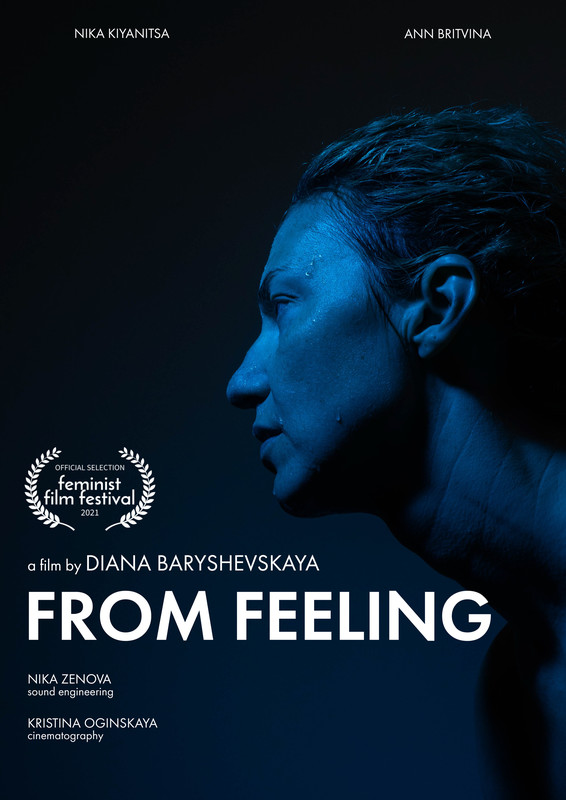 导演|戴安娜·巴里舍夫斯卡娅
编剧|戴安娜·巴里舍夫斯卡娅
主演| 安娜·布里特维纳、维罗尼卡·基亚尼察、克里斯蒂娜·奥金斯卡娅
制片人|安娜·布里特维纳、维罗尼卡·基亚尼察、克里斯蒂娜·奥金斯卡娅、戴安娜·巴里舍夫斯卡娅
摄影|克里斯蒂娜·奥金斯卡娅
类型|实验短片
时长|6分钟
完成时间|2021
对白语言|乌克兰语
字幕|英语
地区|乌克兰
制片公司|无
故事梗概
这是一个关于触觉的故事。故事的女主角对于触觉有着迫切的需求,为了满足这样的需求,她不惜以牺牲身边的人为代价。如果那个人走了怎么办?她能靠自己的力量生活吗?她与自己的触觉将为我们寻找答案。
导演介绍
我是一个年轻的电影制片人和创作者,《从感觉出发》是我的处女作。一直以来,我都无比关注和同性恋社群、妇女权利等相关的话题,正是基于这些话题,我开展了一个名为"说之恐惧"的摄影项目,以此揭示暴力主题。在担任项目摄影师和策展人的时候,我有了拍电影的想法。我的剧本创作始于2020年,同时我也在寻找制作团队和演员。未来我希望自己能够成为一个可以自由而安全地谈论任何话题的独立导演。
导演阐述
我的电影展现了我对于"孤独"的思考。我一直想知道的是,我是否可以独自生活?又或是说我一定会需要某个人?我是否只是用另一个人来填补内心的空虚呢?分手后,我能否变得更了解自己而不感到孤独呢?
Director|Diana Baryshevskaya
Screenwriter|Diana Baryshevskaya
Cast|Anna Britvina, Veronika Kiyanitsa, Kristina Oginskaya
Producer|Anna Britvina, Veronika Kiyanitsa, Kristina Oginskaya, Diana Baryshevskaya
Cinematographer|Kristina Oginskaya
Genre|Experimental
Length|6min
Year|2021
Dialogue|Ukrainian
Subtitles|English
Region|Odessa, Ukraine
Production Company|None
Synopsis
A tactile story about self-sufficiency. She has an urgent need for tactility, which she satisfies at the expense of the person next to her. What if the person is gone? Can she live on her own?
It is she and her touches that would search for answers.
Director Biography
I am a young filmmaker and photographer. This is my debut. I am concerned with the topics of the lgbt community, women's rights, social security, safety, and women creative realization. On these topics, I had created a photo project "Scary to Say". I had revealed the themes of violence also I had acted as a photographer and curator of the project. My personal experiences gave me the idea of ​​making a film. Starting in 2020 I had worked on the script,i was looking for a team and actors. In future I see myself as a director of young, independent cinema where I can speak freely and safely on any topic.
Director's Statement
My film is my reflection. I am concerned with the topic of loneliness. I ask myself the question can I live alone or I definitely need a person. Or I fill my inner emptiness with another person. Is it possible after broke up to become closer to myself and don't feel lonely?