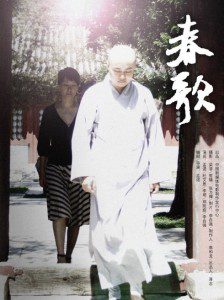 《春歌》
片长:17分钟
出品时间:2007年
类型:剧情
编剧 导演:孟诺
摄影:梁菲
主演:孟诺 杜艾恩
故事梗概:
和尚去已故友人家拿留给自己的遗物,友人的妻子接待了他。看着遗物和伤心的未亡人,和尚黯然离去。
妻子一直感受不到丈夫的爱意,在收拾丈夫遗物时,发现一张深藏的照片,妻子得知丈夫和和尚有一段不寻常的关系。于是,妻子到寺院找到和尚。
谈话中,妻子对和尚从敌视到倾听到理解,两个未亡人在春天化解心结,各自寻找新的生活。
导演阐述:
由来
很多同性恋选择一种妥协方式,即和异性结婚,组建一个家庭,传宗接代。
在我眼里,这种所谓的"忍辱负重"是一种比较愚蠢的做法,我能理解但不支持。
我会想像,当一个人和他不爱的人结合后的生活是什么样的。出于自我的执拗,我总觉得这个"始作俑者"一定不幸福,而且得不到幸福。
在这样一个爱恋模式下,我反而比较关注被遗弃的恋人和被欺骗的爱人的生活与情感的发展。
这是一个长篇故事,因为制作经费的原因,我节选了一段。于是有了这个短片。
人物
故事的主角是和尚和女人。和尚被恋人遗弃,选择一种极端的报复方法,出家,这种看似无力实际残忍的报复,是用自己为代价来拷问爱人的良心。
女人在这个故事中是最无辜的,感受不到丈夫的爱而出墙,又因为丈夫的死而愧疚,她一直被蒙在鼓里,找不到自己不幸的根源。
对于这两个同病相怜的人,我为他们打开心结,寻找出路。
至于片中一开场就被安排去世的丈夫,算是我对这类人的一个小小恶作剧吧!
思想
在这里,我只是讲述一段故事,一种感受,没有什么所谓的"思想"可言。
<Songofspring>
17mins  2007
Dirctor/screenplay: Meng Nuo
Photographer: Liang Fei
Cast: Meng Nuo, Du Aien
SYNOPSIS :
A man died, he left some things to his friend- a monk.
For long, his wife couldn't feel his love, and when she cleaned up his left-things, she found out the secret between his husband and the monk, so she began an unusual conversation with the monk-which made these two remained defuse their agony, and began their each new life.
Director statement:
-Origin
Many of the homosexual people have chosen to make a compromise: to marry someone of opposite sex, form a family, and have children.
I always wonder how it will be to live to­gether with someone you don't love. And I always believe the one who chose this way will not get happiness at last.
This is a long story, because of financial reasons, I chose part of the story and made this short film.
-ROLE
The main roles of the story are the monk and the wife. Monk was abandoned by his lover and chose converting to Buddhist as revenge; the wife is the most innocent, but all what she dose can't find her the reason for her misfortune.
To these 2 unfortunate people, I find them a way out.
To the husband died before our story be­gins, I gave him this position as a small punishment.
-Opinion
Here, I just want to tell a story, a feeling, but no opinion at all.