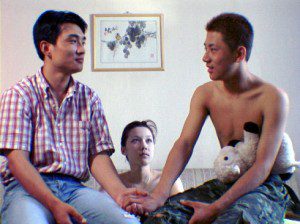 《星星相吸惜》
90mins 剧情片 2004年
导演:崔子恩
摄影:张晖林
主演:于博,王桂峰,张曦文
<Star Appeal>
2004    90mins  fiction
Director: CuiZi'en
Cast: Yu Bo , Wang Gui Feng , Zhang Xi Wen
剧情简介:
ET赤条条从火星来到地球,被小博带回家中。小博的女友文文根本不相信ET是个外星人,小博的男友小剑对此也是半信半疑。只有小博对ET的身分坚信不移,对他百般呵护,倾尽全力带他见识地球景象。为了转移小博对ET的注意力,文文把自己装扮成木星人。失败之後,作为报复,她向小博宣布,要与ET生养一个地球人与火星人的混血。她把ET带回住处,玩弄他,试图说服他与自己生养孩子,导致ET昏迷不醒。小博赶来抢救,无意中说出了"我爱你",一句火星人也在使用的语句。ET听到火星语,苏醒过来。一向不吃不喝、靠吸收阳光生活的ET,为了小博,亲尝了咖啡里的人生滋味。他慢慢地体味到地球人生的苦辣酸甜,爱的方式和肉体的极限。离开地球的前夕,他用地球人爱的极限方式,把火星人的爱情献给小博。ET走后不久,小博来到与ET初会的地点,找到了前往火星的道路。
Synopsis:
Coming alone from Mars to the Earth, ET is brought home by Xiao Bo. Xiao Bo's girl­friend, Wen Wen, totally disbelieves that ET can be an alien, while Xiao Bo's boyfriend, Xiao Jian, is simply skeptical. However, Xiao Bo is rather convinced of ET's identity. He is very attentive to ET, enthusiastically showing him what the Earth looks like.
In order to distract Xiao Bo from ET, Wen Wen masquerades herself as someone from Jupiter. Her plan doesn't work, however, so to get revenge, Xin Xin declares that she'll have a mixed Earthling-Martian baby with ET. She brings ET home, teas­ing him and trying to persuade him to have a baby with her, but instead ET ends up losing consciousness. Coming to his rescue, Xiao Bo inadvertently utters "I love you," a phrase also used by Martians. Upon hearing this, ET recovers consciousness.
ET used to survive merely on sunlight, never taking any food or drink. It is for Xiao Bo's sake that ET savors coffee for the first time. He gradually experiences various aspects of life on Earth, learning how to love as well as what the physical limitations of humans are.  On the eve of his return to Mars, ET uses the same ultimate hu­man way of expressing love and makes love to Xiao Bo. By this means, he dedicates his Martian's love to Xiao Bo. Not long after ET has left the Earth, Xiao Bo, who was "infected" by a certain Martian quality during lovemaking, comes back to where they first met, and discovers the way to Mars.