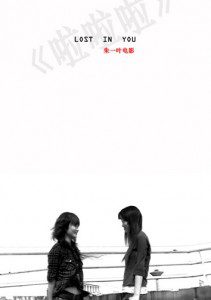 《啦啦啦》
片长:82分钟
出品时间:2006年
类型:剧情
编剧 导演:朱一叶
主演:孔思思 张佑希
故事梗概:
郁小幻(孔思思饰)是一个脸上有胎记的女孩,自卑,敏感。她偶然结识了张佑希(张佑希饰)——一个总是努力保护自己不受嘲笑和伤害的女孩。这份感情从一开始就难以界定,朋友?爱人?两个女孩迷茫了。于是张佑希让郁小幻去尝试下自己是否喜欢男生。诗人,球员和话剧演员,先后与三个男人的相处只是让郁小幻感到荒唐,对张佑希的感情反而愈加清晰强烈。她们相爱了,她们要在一起,爱情就是这么自然。然而欲望让她们害怕,同性恋这个字眼让她们害怕,身为同性恋将要受到的伤害让她们害怕。她们无所适从,不愿伤害对方,最终选择了结束这一切,永远相望着而不失望。
郁小幻选择了现实生活,和所有的女孩子一样,属于未来一个未知的男人,通过其他人,其他爱情来爱张佑希。而张佑希选择了守望,守望着郁小幻,守望着她们的爱情。她们即使嘴巴紧闭,灵魂却仍在永远对话。
导演简介:
朱一叶, 女,八十年代生人
中国独立电影导演,用玩的态度、简陋的设备去做自己想做的电影,她相信,世界就是她的游乐场。
曾拍摄:独立电影《想不起》
实验电影《非女同志》
同性恋题材电影《啦啦啦》
<LOST IN YOU>
82mins, 2006, fiction
Screenpaly/director: ZhuYiye
Cast: Kong Sisi, Zhang Youxi
SYNOPSIS
Yu Xiaohuan was born with a birthmark on her face, which inevitably formed her sensitive and self-contemptuous charac­ter. One day, she met Zhang Youxi, a girl who always fights to protect her from in­sult and harm. Their relationship couldn't be defined from the very beginning; friends or lovers? They fall in love. It all seems so natural to them.
But soon a fear of lust grows in them. They are afraid of thepressure and harm that befall homosexual people. Not knowing what can be done, they only want to pro­tect each other. So, Yu Xiaohuan decides to come back down to earth, to live a life most women choose to live, to marry a man one day. She still loves Zhang through other channels and other people. Zhang Youxi chooses to behold Yu from afar, to guard their love in her heart. Even though they are apart, their souls are in constant dia­logue.
Director biography:
Zhu Yiye was born in China in the 1980s. An independent film director with a play­ful attitude. Zhu makes films with the most basic equipment. She believes that the world is her playground. She directed 'Lost in Memory '(2004) and 'Not a Les­bian' (2005).