《双镯》
Twin Bracelets
1991 | 103 min | 黄玉珊 Huang Yu-Shan
剧情长片 Feature Film
编剧 Screenplay
梁淑华 Suk-Wah Leung
主演 Cast
陈德容 Vivian Chan, 刘小慧Winnie Lau, 郭晋安 Roger Kwok
制片人 Producer
方逸华 Moon Yiu Wah
制作机构 Production Group
香港大都会电影公司 Cosmopolitan Film Productions
故事梗概
Synopsis
《双镯》叙述在福建惠安从小一起长大的惠花、秀姑的遭遇,惠安盛行童婚制度,结婚三天回娘家,有孕才能终年到夫家长住的陋俗,导致给女子带来的许多悲剧,惠花目睹大嫂及好友美珍先后成为婚俗牺牲者,久而久之,深怕自己也会遭到同样的命运,对婚姻和异性产生恐惧,不自觉将感情倾注在秀姑身上,并互换手镯为盟,结成姐妹夫妻。
Twin Bracelets is a story about Hui Hua and Xiu Gu, who have grown up together since childhood in Hui An, Fujian province. Child marriage is very common in Hui An. Girls get married at an early age and return to their natal families three days after the wedding. They are only allowed to live in their husband's homes if they get pregnant. These practices cause much heartache for the girls. Hui Hua witnesses her sister-in-law and her friend Mei Zhen become the victims of such marriages and fears that she will meet the same fate. Fearing marriage as well as men, she graduallybegins to pour her emotions into her friend Xiu Gu. The girls exchange bracelets and take vows to one another to become sister spouses.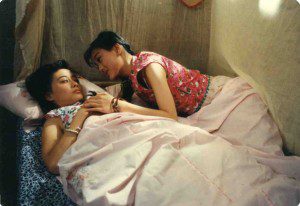 导演简历Bio-Filmography of Director
国立政治大学西洋语文系毕业,纽约大学电影研究所硕士,剧情片及纪录片资深编导,现任国立台南艺术大学动画艺术与影像美学研究所副教授。曾任台南艺术大学音像管理所所长兼音像媒体中心主任,黑巨传播公司负责人、导演、监製。近几年代表作品为「南方纪事之浮世光影」、「池东纪事」、「锺肇政文学路」、「插天山之歌」等。黄玉珊导演的作品充分表现出对女性的深切关注,除了电影工作之外,她曾经执导舞台剧、创作小说、剧本,并参与女性影展、南方影展的创办。主要的教学研究领域是影视编导、独立製片与工业、女性电影、纪录片、电影史和评论。
Huang Yu-Shan was born in Penghu, grew up in Kaohsiung City, and graduated from the Department of Western Languages and Literature at Cheng-Chi University in 1976. Since then she has worked as editor, scriptwriter, and film critic. In 1982, she earned a master's degree in Cinema Studies at New York University.
Since returning to Taiwan, Huang has engaged in filmmaking, teaching and writing. At present, she is associate professor at the Graduate Institute of Animation and Film Art of Tainan National University of the Arts. Her areas of research include Asian film, independent filmmaking, and film culture and industry. Founder of Taiwan Women's Film Festival, her works tend to focus on the lives and experiences of women. Her films also often engage literature and history. Her feature films include Autumn Tempest, Twin Bracelets, Peony Birds, Spring Cactus,The Strait Story, and The Song of Chatian Mountain.